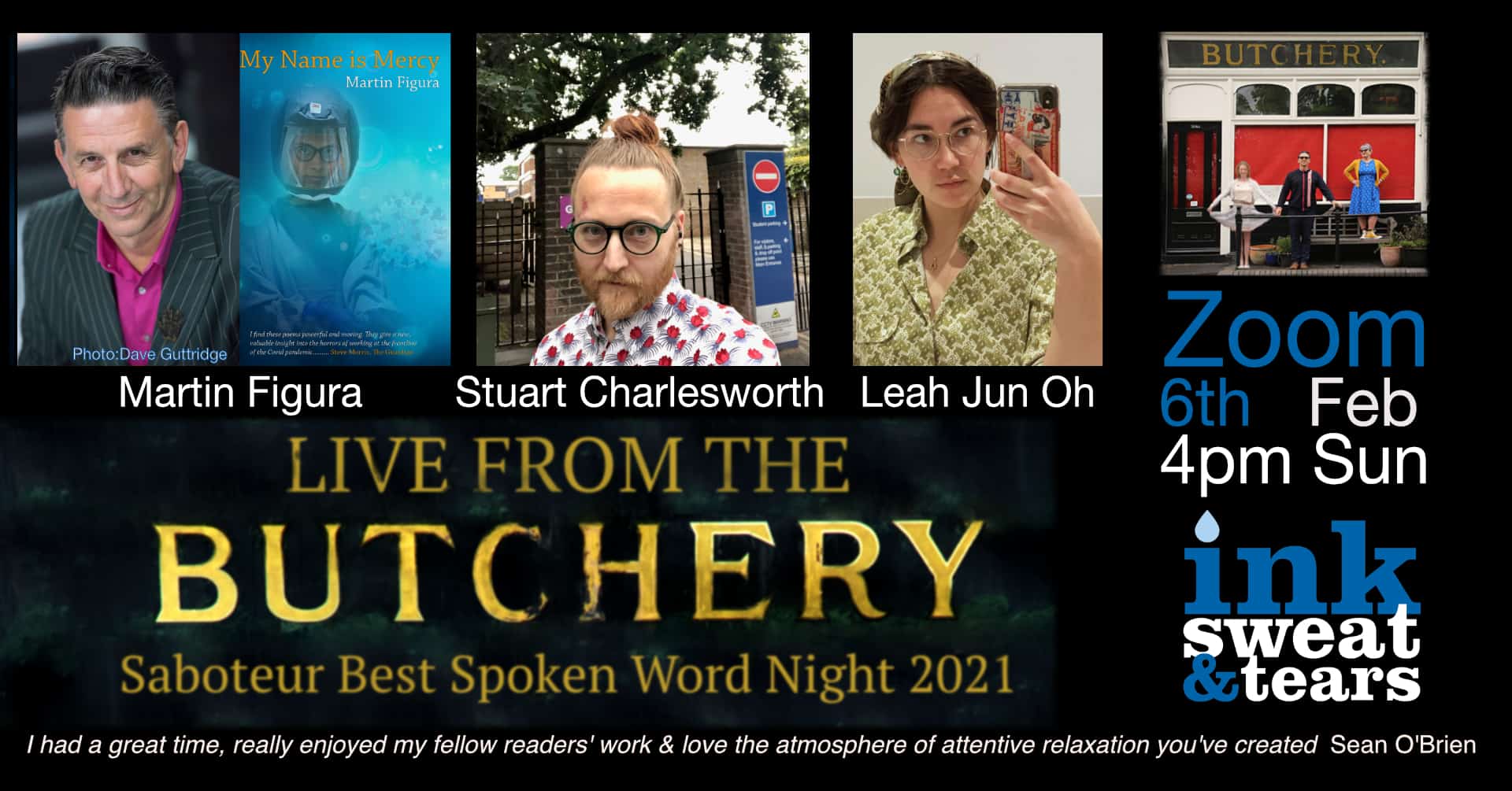 Please join us on zoom for live readings from Martin Figura, Stuart Charlesworth and Leah Jun Oh on Sunday 6th February at 4pm UTC
This is part of  our monthly award-winning  'Live from the Butchery' series, hosted by Helen Ivory and Martin Figura from their home (an old CoOp butcher's shop), and IS&T publisher Kate Birch.
The event will be on zoom. Please register here: www.eventbrite.co.uk
Martin Figura launches My Name is Mercy – a new collection of poetry about Salisbury Hospital's response to the COVID-19 pandemic, published by Fair Acre Press.
The Trust commissioned Martin Figura in March 2020 to interview staff from across the Trust, exploring how it felt to be at the frontline of the pandemic response. This has resulted in an emotional collection of poems, titled My Name is Mercy. The title poem is based on one of the series of reports that BBC's Mark Urban produced for the Newsnight programme.
The life and work of staff in an out of the hospital form the subject matter of the poems, including experiencing Salisbury during lockdown and using horse riding to help cope with the stress and mental challenges of the pandemic, and the poet's own experience undertaking this project.
Oscar winning actress, and patron of The Stars Appeal, Olivia Colman, has read two of the newly commissioned poems. Fifth Season is based on a patient's true story and Nightshift, which has recently been chosen by Poetry Archive Now as one of the poems of 2021.
The Ridge Line
 
A Bay Dutch Warmblood of over seventeen hands,
a mighty horse, a cherished childhood dream.
Lizzie whispers Drum 'Drum and he pricks his ears.
They have trust in each other, intuitive and physical.
He loves the reach of the grooming brush working
against the broad combe of his back. He doesn't envy
her, her arms, nor her his four strong legs and mane.
The yard is sharp with impatient clattering and shovel
scrapes. When the river mist softens with the sun
and shadows begin their slow easterly creep back
to themselves, Drum has her. Lizzie is strong, knows
there is still unearthed treasure and blame to be
a useless burdensome beast. He easily forgives
her occasional melancholy, carries her way above
the hollows of the valley. The trees acknowledge
in birdsong their trace of breath as they hack
along the ridge line.  Lizzie sees this last year to be
just one of the thousands spelt out across the chalk-
marked Vale and Downs in circled stones, barrows
and flint. The hospital watches over its cathedral city,
her own self a speck at a cottage gate, watching her love
walk to the bluebell woods, a penny whistle in her pocket,
the light rising from her, like a flame.
*
Dear a Nurse
Dear a Nurse, take this exercise daily
and you'll always drop some important thing
from the tip of your tongue. Let this lesson liberate
through the small death of a grey cells patch:
an itch, the pinch of filament wires
pressing against the temporal bones of your skull,
pressing against your conception
of what you
are you —
this weary you carry,
this worry-being-not-up-to-snuff
will smoulder on an infected wound,
will harden into a diamond spike,
an instinct will bulb as a hotspot sore
signposting where you should drive at —
you pick at it, wishing
you did it unconsciously,
like a loose thread on a shroud.
Go home now to your job, your family or a park.
The moth does not mourn accidental
dust lost from its wings,
nor fungus the salts
that it drinks from the brick.
Bullied, harried, harassed and struck —
the brick may hold the secrets within —
what it is to be pliable, earthable, clay
but what is all this to the brick?
Stuart Charlesworth was shortlisted by Jennifer Wong in the 2021 Live Canon poetry competition, by Will Harris in the 2020 Rialto pamphlet competition, was commended by Pascale Petit in the 2018 Brittle Star competition and in 2021 by judges of the Hippocrates prize.
Stuart has an MA in Creative Writing from UEA, is a learning disabilities nurse and helps run Café Writers.
*
on a sparse and salted mountainside
you can learn to love
that dense and thickly tangled foliage called scrub that snarls    at your ankles,
that devours                       gentler objects. you can learn there are ways to chew through it. chew
twice, you call it cud. now repeat. Reticulum; Rumen; Omasum; Abomasum              I will tell you
my ventricular secret;                        how my stomach has four chambers, like the pumping blood-
muscle, or a goathouse with four spacious rooms. in my body, I clutch stones          on the
inside where they cannot be found,     whisper                     bezoar,                     bezoar.
I am not your creature.                     you come to me to learn                              ways
across the slant mountainside.     I will tell you, for one, your hooves? too soft. go to the
rocks                     and learn to calcify. I did, I did, I love the taste of salt deposit                        on
an evening when water has fallen away, and the air is crisp.                     I will tell you
what I suspect:                     someone has sown this grass with salt                   I recognise hunger
crystals         but to what end I cannot understand. you are smiling. ha. what for? I can tell     by the
emptiness of your paunch,      your bald and vacant smoothness:                  you wish you were me!

Leah Jun Oh is the fourth editing intern taking part in Ink Sweat & Tears' paid internship programme and will be with us from January 2022 until the end of April. She is an alumna of Queen Mary University's BA (Hons) English Literature and MA Contemporary Writing Programmes, having received a full studentship to study the latter and achieved a First Class degree in both. Her work on poetry was cited as "highly sophisticated, conceptually and emotionally insightful, stylish, indeed rigorously aesthetic."
Leah is a writer and a Ledbury Poetry Critic. She writes in London and lives in her head.