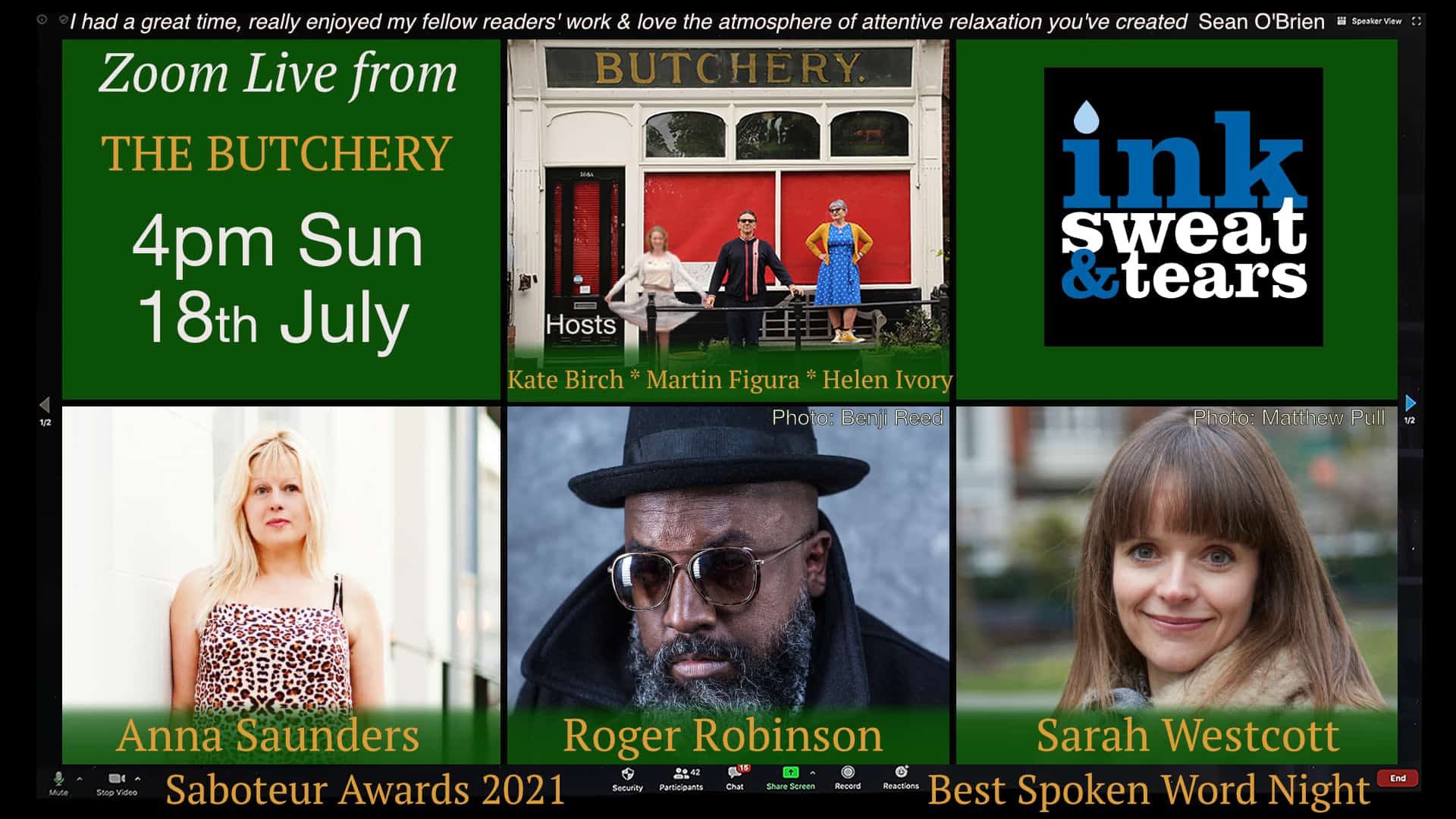 Please join us on zoom for live readings from Roger Robinson, Anna Saunders and Sarah Westcott on Sunday 18th July  at 4pm GMT.
This is part of  our monthly award-winning  'Live from the Butchery' series, hosted by Helen Ivory and Martin Figura from their home (an old CoOp butcher's shop), and IS&T publisher Kate Birch.
Email Kate Birch at inksweatandtears@aol.com for meeting details.
AND IF I SPEAK OF PARADISE
Then I am speaking about my grandfather
And if I speak of my grandfather
I am speaking about horse racing
And if I speak of horse racing
I am speaking about my father
And if I speak of my father
I am speaking about shirt jacs
And if I speak of shirt jacs
I am speaking about intellectuals
And if I speak of intellectuals
I'm speaking about revolutionaries
And if I speak of revolutionaries
I'm speaking about independence
And if I speak of independence
I'm speaking about Paradise
And if I speak of Paradise…
Roger Robinson is a British writer, musician and performer who lives between England and Trinidad His book A Portable Paradise (Peepal Tree Press) won the prestigious T. S. Eliot Prize 2019, announced in London in January 2020. Robinson's victory was also seen as an important one for small presses. A Portable Paradise was only the second book of poetry to win the Ondaatje Prize in May 2020.
A Portable Paradise expresses a fierce anger against injustice, but also convey the irrepressible sense that Roger Robinson cannot help but love people for their humour, oddity and generosity of spirit. These are finely crafted poems, but what first strikes the reader is Roger Robinson's capacity to tell involving stories and capture the essence of a character in a few words.
He received commissions from The National Trust, London Open House, BBC, The National Portrait Gallery, V&A, INIVA, MK Gallery and Theatre Royal Stratford East where he also was associate artist. He is an alumni of The Complete Works.
Note: And if I Speak of Paradise is from A Portable Paradise. https://www.peepaltreepress.com/books/portable-paradise
*
It is like something out of a painting by Hiëronymus Bosch
everyone who has just fallen in love,
and everyone who is heartbroken
here in the garden at the same time.
Those who are in love speak in petals,
break out of pink eggs like sheeny
birds, burst from the heads of flowers dusted with pollen.
Those who are in love are lavish as rococo gardens,
their facades gleam glossily as marbled floors.
All the weather is upon those who are in love
and the rain glints.
The displaced butterflies
have come back to settle on those who are in love
and the blackbirds beat their wings as if in applause.
Those on the lawn who have lost love
stand on nail points and knife blades
crawl out of ears or intestines
drop like buckets to the bottom of wells.
Those who are heartbroken
flail their legs like dying flies
as black shells snap shut on them
and thrash their waxy limbs in bondage,
strapped to harps that will never play again.
Anna Saunders has been described as 'a poet who surely can do anything' by The North, 'a modern myth maker' by Paul Stephenson, and Tears in the Fence said of her 'Anna Saunders' poetry is reminiscent of Plath – with all its alpha achievement and radiance'. She is the author of Communion, (Wild Conversations Press), Struck, (Pindrop Press) Kissing the She Bear, (Wild Conversations Press), Burne Jones and the Fox (Indigo Dreams), and Ghosting for Beginners, (Indigo Dreams).
Anna's new book is Feverfew. (Indigo Dreams). The collection has been described as 'rich with obsession, sensuousness and potency' by Ben Ray, and as 'a  beautiful and necessary collection' by  Penny Shuttle. She is also the Executive Director of Cheltenham Poetry Festival and works as a creative writing tutor and mentor, communications specialist,  journalist, broadcaster and  copywriter/editor.
*
Deflower
My head was full of flowers –
White blossom
Flowers fell from my lips,
Sour sap
Fizzing on my teeth.
Apple blossom sang
High notes
Into my liver –
Sweet, white flowers
Sweet, sour night.
You laid your body over mine –
I was a pressed flower
Tissue opening
In your hands,
White blossom falling.
You pulled a small wild flower
From between my legs,
Tugged its long root
Out like a hair,
Sweet, sour singing.
And still the flowers grow,
Sweet wild flowers
Filling our daughters' arms –
Sweet, white flowers,
Apple blossom falling.
Sarah Westcott's pamphlet, Inklings, (flipped eye) was a PBS choice and Slant Light (Pavilion Poetry, 2016), was highly commended in the Forward Prize. Sarah was a news journalist for twenty years and now works as a freelance poetry tutor and writer. Her second collection, Bloom, also with Pavilion Poetry, was published in April 2021. Liz Berry says: "These beautiful poems pivot upon a strange dazzling curiosity. They urge us to kneel in the long grass and pay tender attention to the spaces within nature and within ourselves where life blooms." Website: sarahwestcott.co.uk
Note: Deflower is from Bloom (Pavilion Poetry): https://www.amazon.co.uk/Bloom-Pavilion-Poetry-Sara-Westcott/dp/1800348703