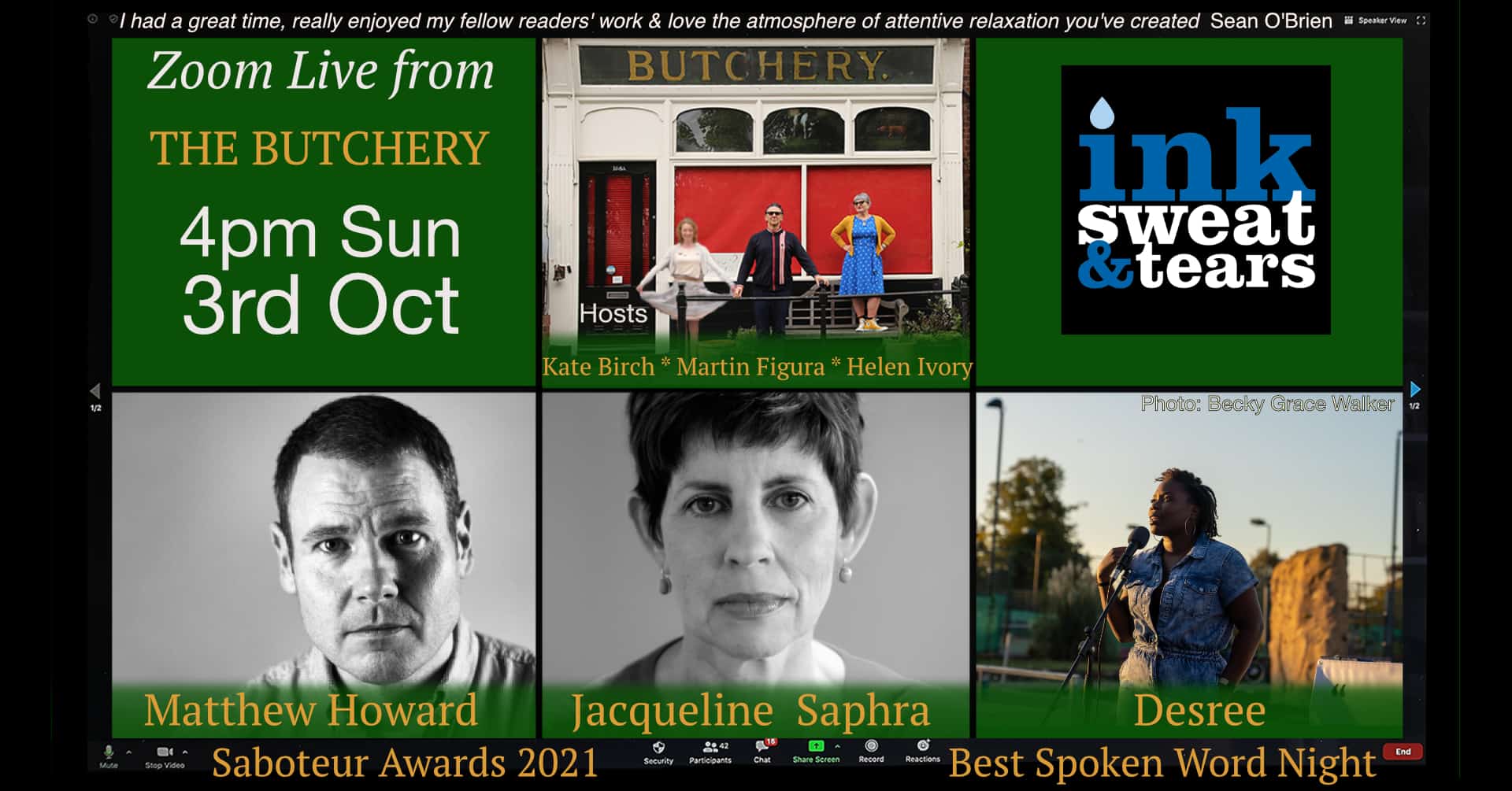 Please join us on zoom for live readings from Jacqueline Saphra, Matthew Howard and Desree on Sunday 3rd October at 4pm BST.
This is part of  our monthly award-winning  'Live from the Butchery' series, hosted by Helen Ivory and Martin Figura from their home (an old CoOp butcher's shop), and IS&T publisher Kate Birch.
Email Kate Birch at inksweatandtears@aol.com for meeting details.
'The singer of 'We'll Meet Again', who entertained troops 
in World War Two, has died' BBC News
The anthropologists will have their day,
history will come for us. We don't know what
we're living through, we see only how high
the walls, how fake the news, how deep the rut.
We dizzy in our twisting narratives,
we try to find the light, our working heads
knock out a plot, we track and trace, our gifs
are all we've got and Vera Lynn is dead;
end of an era, myth of a common cause
and what's the bloody point of art? Oh please!
Who else will tell the whip and wheeze? Our loss
must not be of imagination; the libraries
of the mind are open, the alchemy is strong,
the dark dream howls and shows its teeth. Bring it on.
Jacqueline Saphra
is a poet, playwright and activist. Recent collections are
All My Mad Mothers
, shortlisted for the 2017 T.S. Eliot prize and
Dad, Remember You are Dead
(2019), both from Nine Arches Press.
A Bargain with the Light: Poems after Lee Miller
(2017) and  
Veritas: Poems after Artemisia
(2020) were published by Hercules Editions. Her most recent play,
The Noises
was nominated for a Standing Ovation Award.
One Hundred Lockdown Sonnets
was published by Nine Arches Press in 2021. She teaches and mentors for The Poetry School.
A Jar of Moles
I have trawled the whole city for your gift,
trusted the knowledge of black cabs to bring you this –
it is quite full, so be careful of its weight.
The man couldn't say how many it contains,
simply that it's full because it has to be,
just as a true heart only ever brims with love.
Each side is crammed with quiet wild faces,
pink snouts clear from their maze of dark chambers;
see, this one here still bares its teeth.
The labouring velvet behind blown glass through decades
and where one man made that emptiness
another has worked hard to fill it.
So take these moles darling, with my love,
hold them safe, and away from the sun,
cherish each heavy earth-swimming hand.
Matt Howard
's first full collection,
Gall,
was published by
The Rialto
in 2018 and was winner of the 2018 East Anglian Book Award for Poetry, shortlisted for the Seamus Heaney Centre First Collection Prize in 2019 and won Best first Collection in the inaugural Laurel Prize 2020. After eleven years working for the RSPB, Matt has just been appointed to the Douglas Caster Fellowship in Poetry at the University of Leeds.
Sonnet for my Sacrarium
She was sculpted from clay by her mother,
Adinah. Given life as a woman on an island
small enough to fold in half. With superhuman
gifts that can only be delivered by God, Herself.
A courage to sail sixteen ships, to birth flags
on continents with no wind. What she built was
stronger than anything, any man could rip
from roots. Her mouth watered children
who blossom in her likeness. Look at her!
An arsenal of magic and redemption,
A song in retreat. A scripture baptised
in wrinkles. A giver of ceremony.
Eunice, sanctuary lives between your fingers.
Grandmother, at your feet I find my sacrarium.
Desree is an award-winning spoken word artist, writer, playwright and facilitator based in London and Slough. Currently Artist in Residence for poetry collective EMPOWORD, Desree explores intersectionality, justice and social commentary.
Producer for both Word Up and Word Of Mouth, finalist in 2018's Hammer & Tongue national final and TEDx speaker, she has featured at events around the UK and internationally,
In May 2021, Burning Eye Books republished Desree's first self-published pamphlet
I Find My Strength In Simple Things
(2017). Desree is the current intern at Ink Sweat & Tears