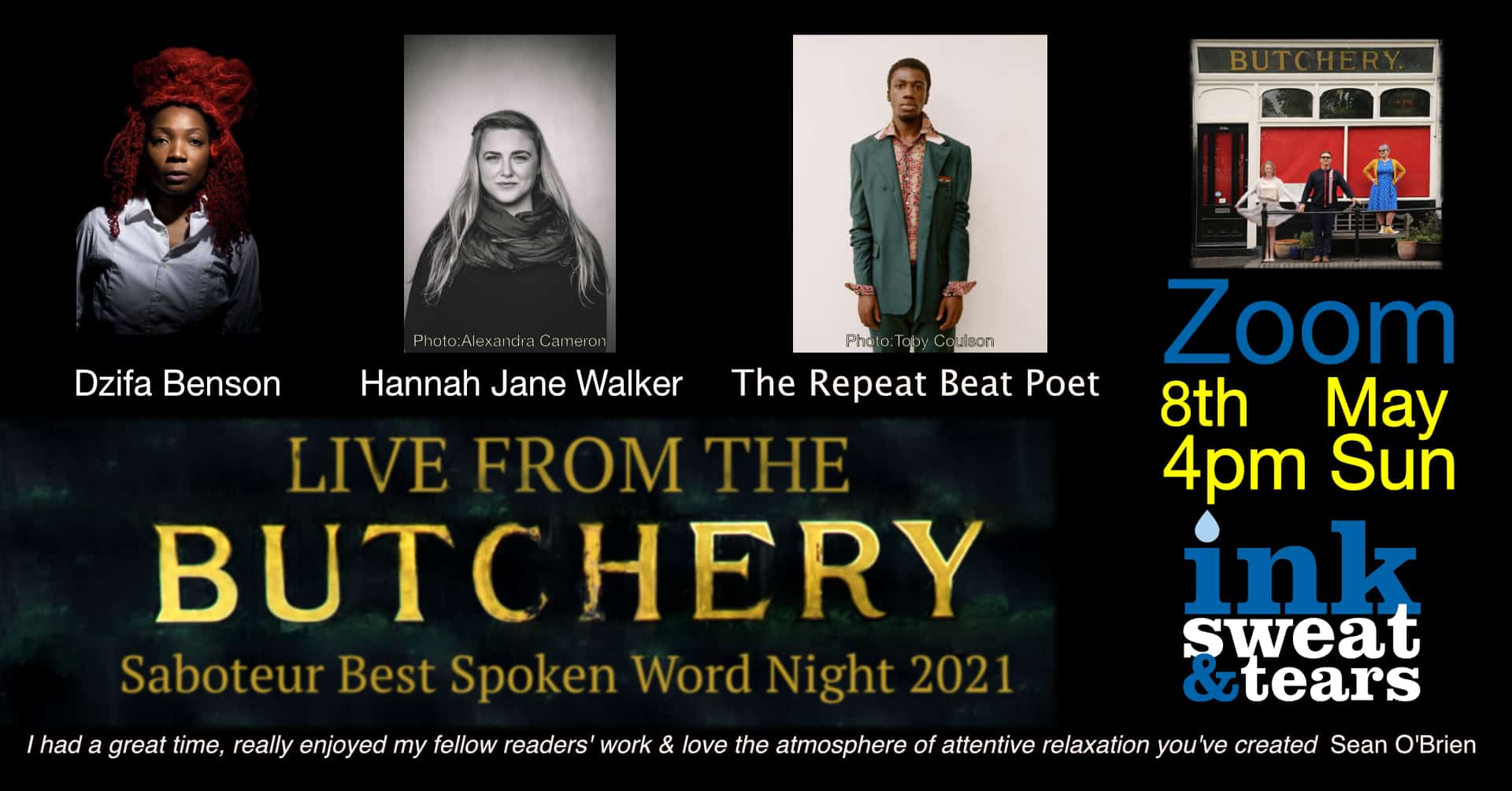 Please join us on zoom for live readings from Dzifa Benson, Hannah Jane Walker and the new IS&T editing intern The Repeat Beat Poet.
This is part of  our monthly award-winning  'Live from the Butchery' series, hosted by Helen Ivory and Martin Figura from their home (an old CoOp butcher's shop), and IS&T publisher Kate Birch.
As before, we will be operating on a 'pay what you can, if you can basis', and all proceeds will go to the poets and the maintenance of the programme.
The event will be on zoom.  PLEASE SIGN UP WITH EVENTBRITE IN ADVANCE: https://bit.ly/3xUVF94
Self Portrait as a Creature of Numbers
I shifted into this human life from the spirit world,
the fusion of an egg and a sperm at 8.42 pm, where
Latitude 51° 31′ 0 N straddles Longitude 0° -.6' E.
London, N19 to be exact.
At 8 days my mother out-doored me, crossed
the threshold back and forth 7 times, whispered
a prayer over 3 glasses, dabbed my tongue,
one drop from each – water, honey, salt.
She showed my face to the 4 elements each in turn,
punched 2 holes in my earlobes. To bind mind, body
and spirit to a destiny of life path 1, she took 3
new laid eggs cracked them open over my head.
1st daughter of a 4th son of Ghana, my soul surges
8° 00′ north of the equator 2°00′ west of the prime meridian.
I march to a 4 beat over 50,000,000 knots
on this ocean called forever knowing that bigger, better
numbers can be reached by always adding just 1 more.
Sketched from 300 moons minus 3
plus 25 valentine cards I never received, I am ruled
by lustre bouncing off the Evening Star, second planet in,
108,000,000 kilometres from the sun.
If you encounter me in the underground standing
1.66 metres tall on the escalator going up or going down,
know that I own 1001 options raised to the power
of infinity plus 1 – dreamer, sinner, runner.
Always climbing 1 more number. At the very least 1.
Dzifa Benson is a Ghanaian-British multi-disciplinary artist whose work intersects science, art, language, the body and ritual which she explores through poetry, theatre-making, performance, curation, essays and criticism. She abridged and adapted the National Youth Theatre REP Company's 2021 production of Othello in collaboration with Olivier award-winning director Miranda Cromwell. Dzifa is a Ledbury Poetry Critic whose byline, covering theatre, poetry, fiction and non-fiction appears in the Telegraph, the Financial Times and Times Literary Supplement. She is a Jerwood Compton Poetry Fellow 2021/2022 and Poet-in-Residence for Whitstable Biennale 2022. Website: https://www.dzifabenson.com/
*
Let me get this straight
(Title borrowed from Molly Naylor, with permission)
Let me get this straight,
there are days when all you want is some beauty in this place
with the windows open, the air blasted,
and the news not on 48 hour crisis repeat.
There are days, when your heart, like a hot air balloon,
tries to sandbag its way out of your chest,
just to get at something that is not rises in living costs
war, environmental collapse.
Let me get this straight,
this is not a silver screen, this is not a star –
This is a fairground,
all those fish in zip lock.
There are days when under that awning,
red and white striped, mould specked
when the sky Madonna blue
leans on orange light
and you feel this place rolling through blackness,
solid green blue agate.
Let me get this straight, there are days when you have to cut your way through,
a torn tin can, a mirror shard, a Christmas ornament –
to hold your heart steady with both hands,
both hands now.
And that first promise,
beat, beat, beat.
Some days,
some days.
Hannah Jane Walker is an award winning writer from Essex. She makes work about the difficult uplifting moments we face in the process of being a person.
With playwright Chris Thorpe she makes theatre, and has written, performed and toured around the world This is just to say, The Oh Fuck Moment, I Wish I Was Lonely– published by Oberon, now Metheun new drama. As a poet on stage, she has gigged at festivals and venues around the world. She makes radio documentaries for BBC Radio 4. Her poetry is published by Nasty Little Press and Nine Arches. She makes large scale outdoor poetry sculptures in collaboration with community groups. And she has just written her first non fiction book for Octopus: Sensitive the power of feeling in a world that doesn't. Associate Artist National Centre for Writing 2019. Currently an Associate Artist at Cambridge Junction and Kettles Yard Cambridge.
*
Desecrated
 
When Christ the Redeemer descends on Deptford High Street
only the rain will fall to wash his feet.
The kids will have already grown weary and tired of waiting.
When the Prince Of Peace has finished his late shift
the bus driver will miss him
huddleslumped against the shelter  and only three hours before the early start.
The Godhead made flesh again on Dalston Lane will break in private gardens.
The patrols around Gethsemane felt the same.
His Holiness, His Glorious Name will sing no song on the banks of the Thames
He will gag on London's waste at Beckton, choke at City Airport
and cackle at futility through the fumes.
After following the River Lea up to Tottenham
Yahweh will face matchday and divided loyalties.
The Lord Creator will be run out of the Barking, Brent, and Brixton Town halls
after the Council assessment found him to be fit for work but culturally incompatible.
God will be judged in a trial held on the tube and sentenced to penance
sweeping the halls of St. Paul's.
They say cleanliness is next to godliness.
God has reconsidered what to polish, what to purify, what to burn.
Peter deGraft-Johnson is a British-born Ghanaian writer, broadcaster, and artist known by The Repeat Beat Poet.His debut pamphlet, A Testament To Life And Death (Verve) was released in 2022.
Peter produces and hosts the Hip Hop & Poetry event Pen-Ting at the Bush Theatre, and the multi-award nominated and Lunar Poetry Podcast, which is archived in the British Library. He has toured across the UK and internationally, in musical, theatrical, and poetic performances at venues like the Royal Albert Hall, the Southbank Centre and Ronnie Scott's Jazz Club, at festivals, and on picket lines. He has shared stages with Salena Godden, Joelle Taylor, and Roger Robinson, and his work has been published by Bad Betty Press, Verve Poetry Press, and Magma Poetry. Peter was selected for BBC 1Xtra's Words First, the Roundhouse Poetry Collective, and the Obsidian Foundation. In 2019 he was a Jerwood Compton Poetry Fellowship nominee, his debut single This That was released in 2020, and in 2021 he was an inaugural writer-in-residence at the Library of Africa & The African Diaspora in Accra, Ghana. More here: https://www.troubletongues.com/repeat-beat-poet/
He is the new editing intern at Ink Sweat & Tears