Our first shortlisted filmpoem is the first to be voted Pick of the Month and what a worthy winner it is. 'Surprise' by Mariam Varsimashvili with visuals from Sleep Never Comes To Me's Holly Chant engaged and impressed so many of you, with voters drawn to the work's beauty, originality, artistry and emotion.
Mariam Varsimashvili is a twenty-four-year-old, bi-lingual poet recently graduated from Goldsmiths University. She is based in East London, where she works as a Teaching Assistant. Her work has previously been published by Happy London Press, Reflex Fiction and Dempsey & Windle Press. You can find more of her visual poems on her Instagram @clouddead_ and Twitter @mariam_morrison.
Sleep Never Comes To Me is an illustration and animation project created by Holly Chant during the pandemic and subsequent lockdowns. Holly is the lead singer of the band Xylaroo and works as a local news journalist for the Hackney Gazette. Her drawings and collaborations can be viewed on Instagram @sleepnevercomestome and @illuwords.
Mariam and Holly asked that their £30 'prize' be donated to Doorstep Library, whose representative Rosie Fenlon wrote the following in response.
I am writing to say thank you so much for your gift to the Doorstep Library. We are very grateful to Mariam Varsimashvili and Holly Chant for their support. I watched their poem 'Surprise' and found it very moving – please do thank them for inspiring the next generation of poets and writers.
The gift will go toward helping London's children who need us now more than ever. The reading skills of children from disadvantaged backgrounds are on average almost three years behind those from the most affluent homes by the time they leave compulsory schooling. Lockdown and the ongoing pandemic has accelerated this educational inequality at an alarming rate.
Surprise 
Open the rock. There, by the river where a streak of blood
is so thin it cannot be alarming.
Split the rock in half and you will find cooked ham,
bubbling white fat and a small piece of me.
There, by your milky feet are certain roads I know by heart.
Here, we like to pretend the Oaktree smelling of mint
is not in disguise. We know our bones are pins
that support the whole sky. It does not phase us.
There, in the objects left behind by a flood
you will find a cone full of things that will help you sneeze
and break the dream. You could climb down the Devil's hat
and understand; we are in a red drainage, singing.
Here, when footsteps creep away, the heart liquifies
and the ground gives up some solidity to help you grieve.
There, at the back of the bush, is existence pierced
by a vigorous chant – and we never look.
Voters comments included:
Beautiful and haunting words and visuals
Nice tension between concrete images and abstraction. Great balance of sensory imagery to carry the piece forward. Beautiful ending.
Beautiful, moving, memorable, genre-defining writing
The animation is brilliant and augments the poem beautifully
The poem is saturated with feeling and makes one think of the world as it is, when it is naked
I love the way it sounded when read aloud
Really interesting and relaxing piece. Excellently complimented by the animation
Beautiful and unsettling
engaging language
Emotive language
Helped my anxiety
Very original & interesting
Very mystical, wise and reach of metaphors
Fabulous and powerful imagery
The sensory feelings the poem evokes and the illustration by Holly Chant.
Very impressive and deep.
It is very artistic
Compelling
I like the digital illustration
Because I love surprises
It carries a strong message
Beautiful poem made into a film. Very impressive.
This was my favourite of the poems. I like the images it created in my head.
Inspired poetry
It put me in a dreamy dance and [the] sketches complimented it beautifully
The deeply imaginative written and visual imagery.
**********
THE REST OF THE FEBRUARY 2021 SHORTLIST
Matinal Fears by Maria-Sophia Christodoulou
I'm going to mess your life up—
taping my thumb to my finger.
I'm a big foot kind of bitch god,
my father is scared to ask me
the truth. I cannot wake
from meat dreams, orange pulp
fighting my maternal instinct.
Let's calm ourselves, wash
our faces with wet dough—
an ancestral teaching, witches
in a simple village, blowing
herbs in men's faces. I am lucky
to lie here, in other people's
morning bowls, an early fever.
I have never felt so close
to a yolky heart.
Maria-Sophia Christodoulou is a poet and Secondary School English Teacher living in London. Her words can be found in Nascent, an anthology by Out-Spoken Press.
*
Looking Upwards by Anatoly Kudryavitsky
These stones overhead,
comets juggling omens…
What's the distance between nothing
and no other thing?
We eye the sky thinking of a science
to replace it with. Has anybody flown
to holiness from a language?
To bliss from publicity?
You're right, we should have counted
air balloons inside our heads
well beforehand. Do you know
that all our breezes are sung by vultures?
The sky creates cities and dominions.
Under the setting celestial persimmon, somebody
swaps the whole planetarium of glowworms
for a yarn receptacle.
Anatoly Kudryavitskylives in Dublin, Ireland, and in Reggio di Calabria, Italy. His most recent poetry collections are The Two-Headed Man and The Paper Life (MadHat Press, USA, 2019) and Scultura Involontaria (Casa della poesia, Italy, 2020; a bilingual English/Italian edition). His new collection entitled Sky Sailing is due from Salmon Poetry, Ireland, in 2022. His latest novel is The Flying Dutchman, has been brought out by Glagoslav Publications, England, in 2018. In 2020, he won an English PEN Translate Award for his anthology of Russian dissident poetry 1960-1980 entitled Accursed Poets (Smokestack Books, 2020). He is the editor of SurVision poetry magazine.
*
How To Write A Poem by Cheryl Pearson
First, forget the moon. Forget your lover.
I want you blind to weather. Stars. All kinds
of water. Start with I, with you. With what
you know. No reimaginings. No Salomes
with milky thighs, serrated knives. No
penitent Medusas. Writers, salt your
fields. No roses. No dead fathers.
No mermaids or other mythological
creatures. Imagine there was never
an ocean. A season. A constellation.
I know it's not what you want to hear,
but your grief is common. Your joy
is not that beautiful. The poets have left you
nothing but shoe-buckles. Blue-
bottles. Bathroom tile. Everything you want
to do has been done. Your heart is glass,
and the moon's a cutlass. Pompeii
accumulates its hundredth layer of ash.
Is it hopeless? Call yourself a writer! Start here:
it's dark out; the dock floats in the black.

Cheryl Pearson is the author of Oysterlight (Pindrop Press) and Menagerie, (The Emma Press). Her poems have appeared in publications including The Guardian, Mslexia, Frontier, The Moth, and Interpreter's House, and she has twice been nominated for a Pushcart Prize.
*
my mother is with the stars by Helen Pletts and Romit Berger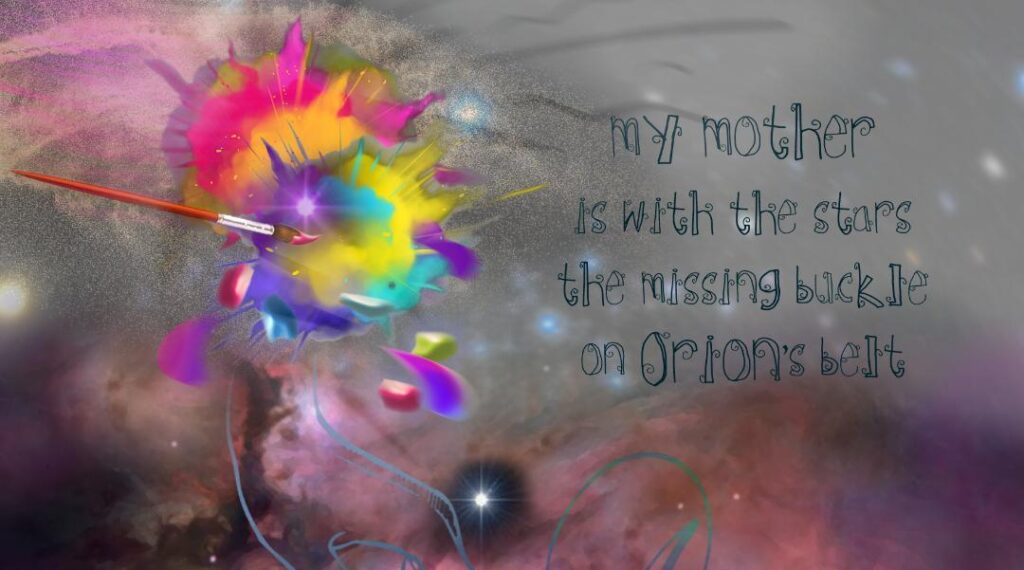 my mother is with the stars
the missing buckle on Orion's belt
holding my favourite constellation
in check – the Universe will be organised
against its will – my Earth in chaos, still
(The full image can be viewed here.)

Helen Pletts (www.helenpletts.com) (Instagram @helen.pletts) Working collaboratively on Word & Image (published exclusively by www.inksweatandtears.co.uk) with Romit Berger, illustrator, since 2012. Helen's poetry was longlisted for The Rialto Nature and Place Competition 2018, shortlisted for Bridport Poetry Prize in 2018, Longlisted for Ginkgo Prize 2019. 'The plane tree entertains the circus of doves' won the Ink Sweat &Tears Pick of the Month in March 2019. Helen's poem 'The Grey Seal Speaks' was selected in 2019 for the climate change awareness anthology entitled Planet in Peril available from Fly on the Wall Press. Helen is also the Project Co-ordinator of The Over and Swavesey Swift Conservation Project 2020 
Romit Berger:  "I am a graphic designer. I met my very dear friend, Helen Pletts, in Prague, several years ago. Helen's inspiration has led my graphic design career into that magical realm which combines illustration and poetry, and our creative wings continue to connect our souls through time and distance."
*
The Year in Thirteen Moons by Steve Xerri
i
gardener's forgotten fork a pronged
Excalibur locked in iron ground,
round pond a mirror to the ice moon
ii
pollen-yellow catkin moon,
a token of death loosening its grip :
frost gone, sap on the move
iii
mass of gelatinous pale globes
inwardly twitching, sailed over
by the frogspawn moon
iv
astonishing all over again,
blossom moon poised to fall,
a million flakes of landed light
v
moon a bowl of milk,
like everything these days
of flowering, lappable
vi
feeding herself rotund in moth-
filled dark above the gardens,
soon gone moon of the bat
vii
skinnydipper moon, shredded
on the rocking water, re-made
whole only when we're gone
viii
an answer to the spheres
pinking half-hidden among leaves,
ripening apple moon
ix
spider moon, plump visitor
looking to creep in through
the back door left ajar
x
where was your white body
lurking until now, puffball moon,
sprouted out of the void?
xi
all too soon the fireworks
are over : smudgy glow in mist,
cooling ember moon
xii
day's wedge down to a third
of the clock-face : sleeper's moon,
be the candle to my dreams
xiii
blank moon snared in the birch's
fretted lattice, indifferent
to the name we choose for it
Steve Xerri has been a teacher, musician and designer. He was Canterbury Festival Poet of the Year 2017 and has appeared in numerous print and online magazines. His first pamphlet Mutter/Land was recently published by Oystercatcher Press. Details on his website https://stevexerripoetry.co.uk.