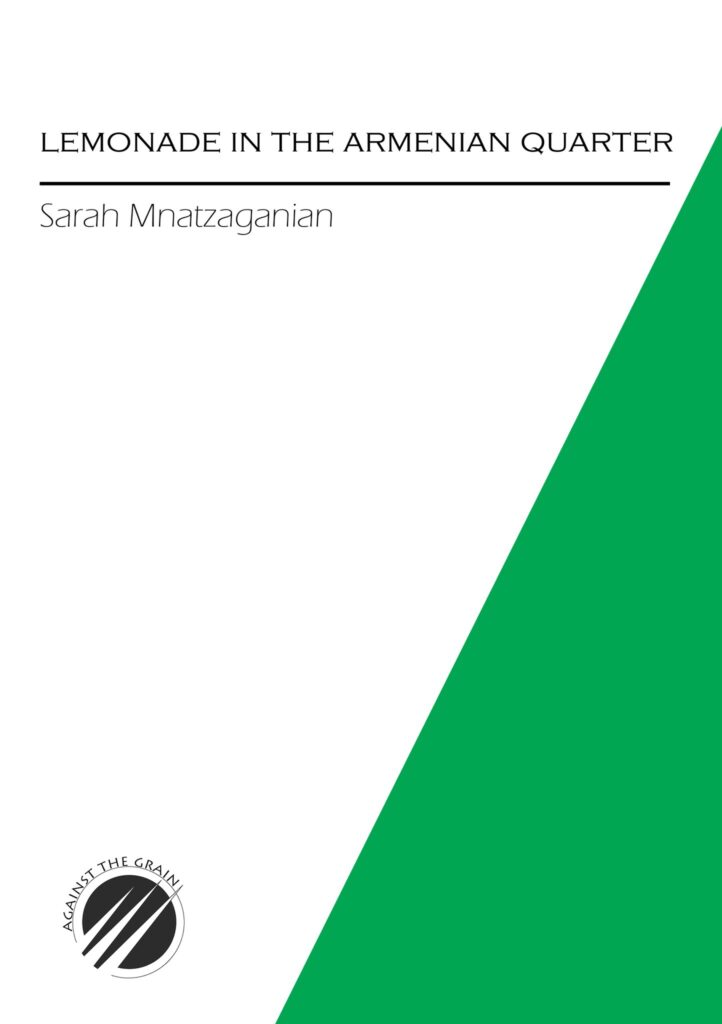 "If music be the food of love" is one of Uncle Hagop's favourite lines, so we are told in 'Uncle Hagop in Stratford-upon-Avon'. But for his niece, Sarah, the food of love is food itself. In happy memories of teenage visits to the Armenian Quarter of Jerusalem, in laments about her own children leaving home, in poems for her mother and father, the smells and textures of food fill the scenes, and food vocabulary, with its borrowings from other languages, enriches the word store and its sounds. If food be the music: papaya, baklava, cardamom, cinnamon, lahmajoun, ma'loubeh.
Food also offers metaphors, as in the very first poem, 'Egg Time' in which a breakfast boiled egg is enough to remind the author of her mother, to whom the poem is dedicated:
Give me an egg, round as childhood.
I'll tap its innocent shell; push sideways
through its Humpty Dumpty head to find
a core of molten gold or the dry pollen
of a hardened heart.
If the abundance of food is the most superficially distinctive aspect of this charming pamphlet, perhaps the use of metaphor is a deeper characteristic. Appealing metaphors colour many of the poems. Sometimes, as in 'Egg Time' they are extended throughout the poem; sometimes they pass in the blink of a pleasing simile. Sometimes they are at the semantically distant end of the comparison scale, as when tortoises "collide each spring /with the hollow pock of a distant tennis match" ('Lemonade in the Armenian Quarter'). Sometimes tenor and vehicle are semantically close, as when a woman 'knocks back her latte like a seal gulping mackerel' ('Food Run') or when "Looking sideways like a bird listening for worms / Ursula feels our oranges, considers the give /of their flesh" ('Oranges for Mariam').
Another distinctive aspect of the pamphlet, taken as a whole, is its mood, which blends contentment with melancholy. Thus, the sadness of some of the poems about family and about separation is that sweet sorrow which recognises its origin in good fortune.
There is regret in the very title of 'Auntie Merhibeh, why did we never write you down', but the poem celebrates a capable and pragmatic woman, who "never learned to read but sang her prayers / before sleep, on the sofa that was her bed." Her love was written on swollen knees hidden under skirts, on bunioned feet. She was a recipe without capitals or full stops. She knew how much salt to sprinkle, how many days to drain the whey.
Similarly, there's a pain that will be recognised by any parent whose child has left home in 'Cake Again', but it's a pain we know, in truth, that we are lucky to suffer: "When there's no way to touch / or give anything but words". For this mother, naturally, the kitchen calls:
it's time to reach for butter eggs
spice syrup honey nuts apricots,
to melt-stir-beat myself into a bowl
and ask what more to add of zest
As with the cake, so with these poems: gifts from the author's kitchen and the kitchens of her memory, with a generous spoonful of her self and a nice measure of zest.
Stephen Payne was born in Merthyr Tydfil, and lives in Penarth, South Glamorgan. He is Professor Emeritus at the University of Bath, where until August 2020 he taught and researched Human-Computer Interaction and Cognitive Science. His first full collection, Pattern Beyond Chance, was published in 2015, by HappenStance Press, and shortlisted for Wales Book of the Year. His second collection, The Windmill Proof, was published by the same press in September 2021, and a pamphlet, The Wax Argument & Other Thought Experiments appeared in February 2022.