Whilst many people view the trade in enslaved people as something which took place along the so-called 'Middle Passage' between Africa and the Americas, between the 1650s and 1780s many hundreds of enslaved people were brought to London. Most were African although a significant minority were South Asian. What's even less well-known is that while in the capital some attempted to and were successful in escaping. The average age of the runaways was 16.
One of the ways we are aware of the existence of these enslaved Londoners is through many hundreds of short advertisements placed in newspapers by masters and enslavers who described and offered rewards for the capture and return of enslaved people who had escaped. Often called 'runaway slave' advertisements, they are in many cases the only surviving record we have of a particular enslaved person, but even then they may tell us very little and all through the eyes of those who enslaved and pursued them.
For more than a year Ink Sweat & Tears has been working with Spread the Word and University of Glasgow academics on the Runaways London Project which involves young poets and artists from the African and South Asian communities working with research from University of Glasgow's Runaway Slaves in Britain project and developing a series of poems and artworks responding to these advertisements. Together these creatives have reimagined the stories of London's runaways, showing African and South Asian people to have been present in London, and that despite some of them little more than children, they dared to challenge their enslavers and run away into the City of London, eager to find better and freer lives.
Momtaza Mehri
from Recognition
We meet again, without fanfare.
Street names introduce us to ourselves.
The Blackamoor's Head, Blackamoor Alley, Black Boy Court.
In this reflection, we are distorted.
Our faces reveal the gashes of our separation.
Dahomey, Ardra, Antigua, Spanish Town.
We name this lonely truth: freedom. It crouches between us,
Shaky-legged & newborn…
Momtaza Mehri is a poet and essayist. Her work has appeared in the likes of Granta, Artforum, The Guardian, BOMB Magazine and The Poetry Review. She is the former Young People's Laureate for London and columnist-in-residence at the San Francisco Museum of Modern Art's Open Space, as well as a Frontier-Antioch Fellow at Antioch University.
Gboyega Odubanjo
from Proprietor Rap
might just spend a boy on a necklace
sell a boy for a pipe of madeira come
by him come and buy a boy split
the booty spin the yarn take the boy
as gospel my assets have assets
my boy has the painted-callico
with the buttons call him a steal
swallow hook line and haggle
over his days his particulars…
Gboyega Odubanjo was born and raised in East London. He is the author of two poetry pamphlets, While I Yet Live (Bad Betty Press, 2019) and Aunty Uncle Poems (The Poetry Business, 2021). Gboyega is an editor of bath magg.
Tasia Graham
detail from Forgotten journey of the enslaved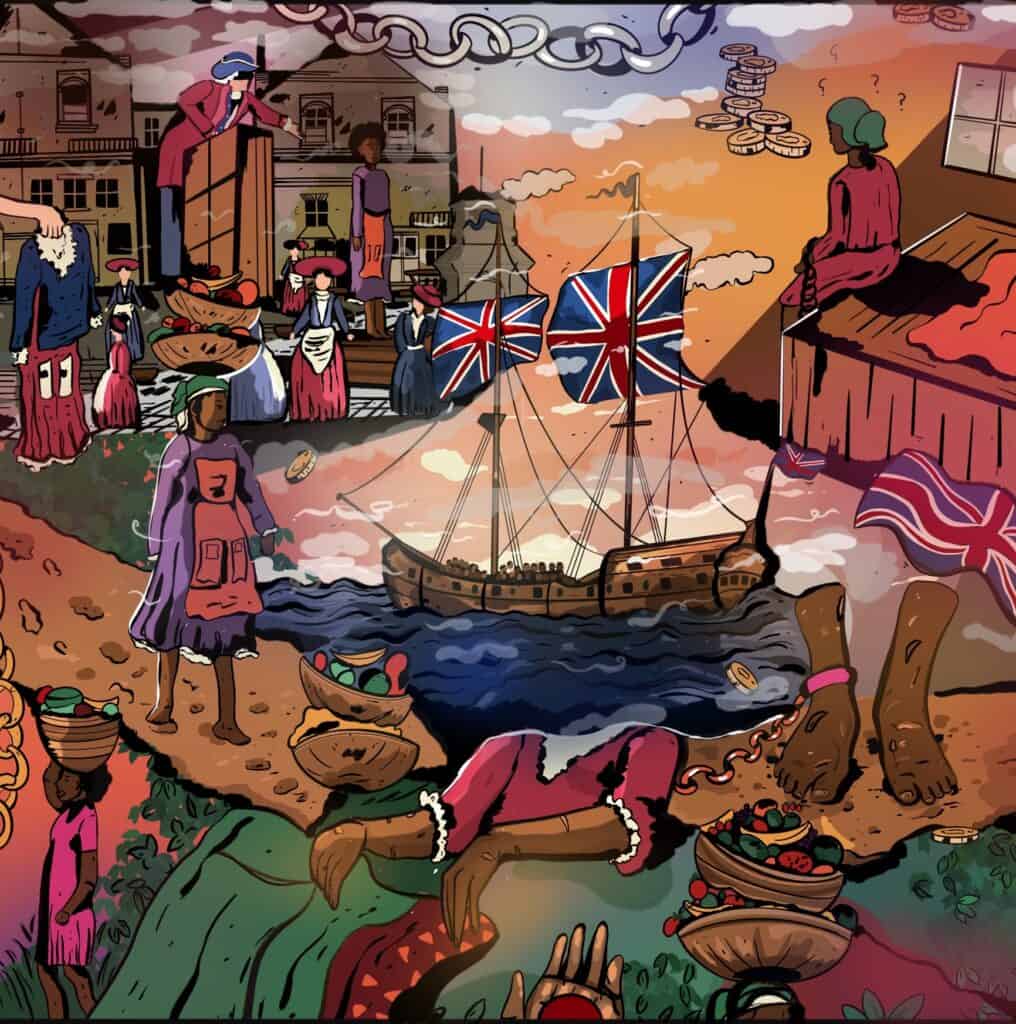 Tasia Graham explores bold, atmospheric, narrative illustration, using her colourful palette and fluid, stylised drawing techniques. Working in both digital format and traditional painting, Tasia explores womanhood, culture, and identity, depicting moods and scenes formed into illustrative storytelling. Tasia draws inspiration from real life experiences and people to create authentic storytelling art.
Olawaseun Olayiwola
from Love Poem from the Underworld
And it was as it had always been, difference
between moving in
and moving from shadow, barely, atleast I thought,
discernable, saintliness,
as is the way in moral tales, scattering
the sun into unchanged stars, still-light, still light…
Oluwaseun Olayiwola is a Nigerian-American dancer, choreographer, poet, and critic based in London. He recently completed an MFA in Choreography from the Trinity Laban Conservatoire of Music in Dance. In 2018, he was awarded a Fulbright Scholarship to study in the United Kingdom. His poems have been published by the Tate, bath magg, Odd Magazine, Queerlings, VS the Podcast and Poached Hare.
Abena Essah
from Nothing's Changed
I burst out of Starbucks panting,
he didn't see me.
Cars on the main road, shooting by.
I pull the sad coloured velvet
above my neck
to cover my dog collar
embossed with the address for my execution…
Abena Essah is a multidisciplinary artist based in London. Their work intertwines queer identity, blackness, music and Ghanaian heritage. More recently, their practise has focused on excavating untold stories of Queer African ancestry and Black history. They are a BBC Words First finalist 2020, a Some-Antics Slam Champion and Roundhouse Poetry Slam finalist. Abena Essah is also an alumnus of Obsidian and The Writing Room and has been published in the Roundhouse Poetry Collective Alumnus Anthology.
Olivia Twist
detail from Black Owned Taverns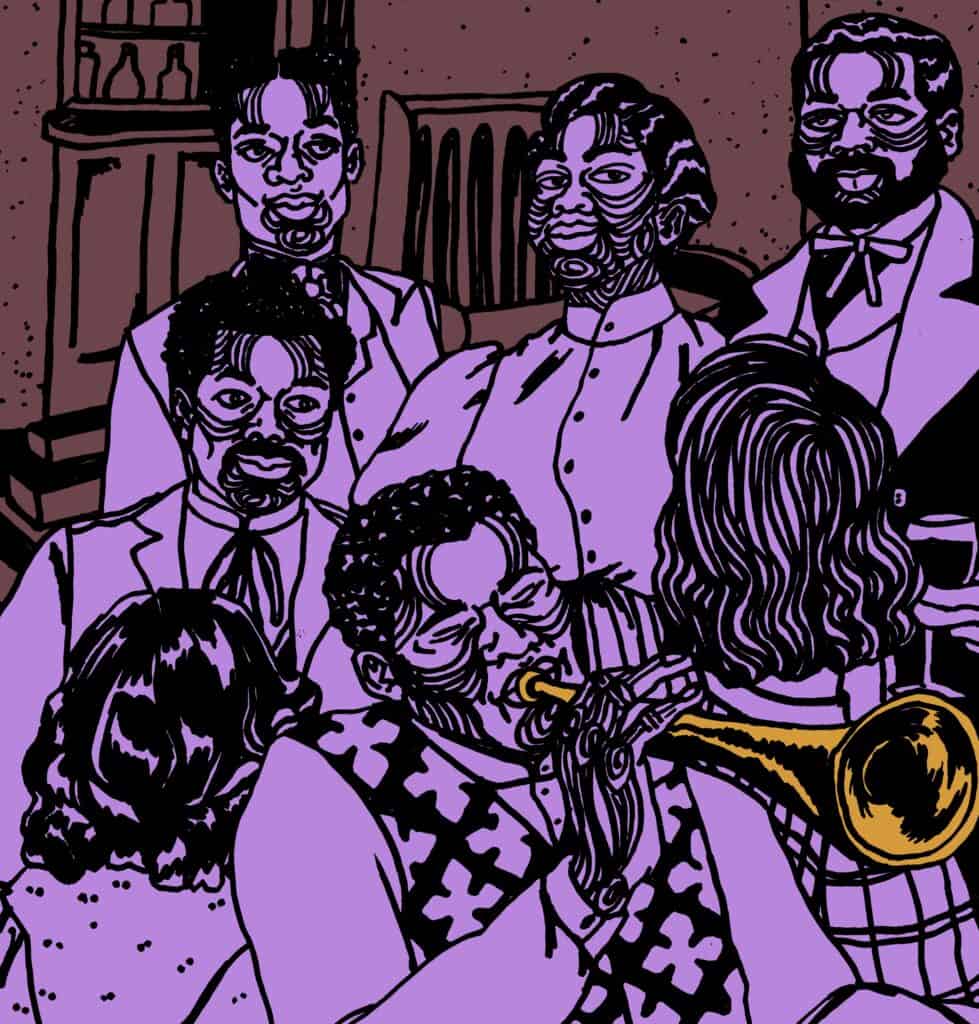 Olivia Twist is an Illustrator, Arts Facilitator and Lecturer from east London with an MA in Visual Communication from the Royal College of Art. The key threads which can be found in her work are place, the mundane and overlooked narratives. She has a strong interest in participatory design, relational aesthetics and documenting social history as it unfolds. As a practitioner her aims are to provide her audience with 'the shock of the familiar' and to trigger greater intergenerational discussion.
Memoona Zahid
from A possible entrance into the moon
she sneaks lavender from the gardens
slips it             under her pillow
drowsiness opens inside her
& fear
festers in her limbs but she sleeps
& refuses the sound of the moon
refuses the blisters on her palms
the same shape of ba's eyes
refuses the call of sunrise
refuses her stomach
its eternal presence like the wind humming against hanging clothes…
Memoona Zahid is a poet and editor of Pakistani heritage, currently based in London. Her writing has appeared in various publications including Tentacular, bath magg, Ink Sweat & Tears and Lumin Journal. She is a Ledbury Poetry Critic and alumna of the University of East Anglia's Creative Writing Poetry MA. She is currently working on her first pamphlet.
The Runaways London anthology, edited by Fahad Al-Amoudi,supported by Kate Birch, can be purchased here.