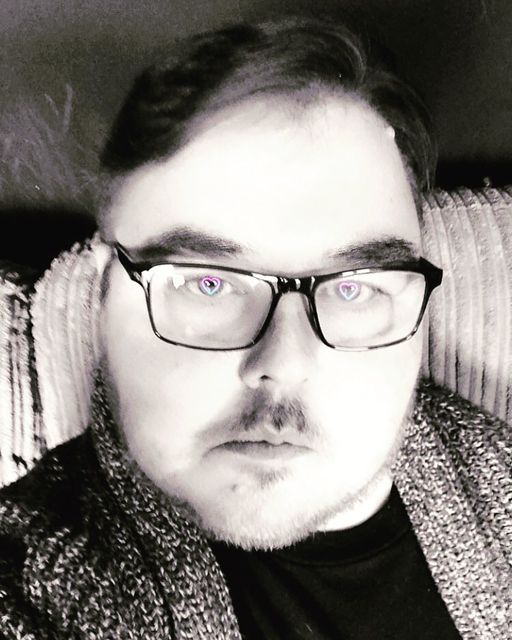 By now most of you will know that Grant Tarbard passed away some time during the night of Monday 4th April. It was very sudden, and he was well and happy that evening.  He spent a wonderful evening with family, only marred by the football.  Grant would have wanted mention of the football.  There was no obvious cause of death, he just went to sleep.
Grant's mum Sue was in touch with Helen shortly after that and asked her to pass on the news later in the week.
Grant responded to everything that life threw at him with a raging wit and was also one of the loveliest people you could ever want to know, unless, ahem, you happened to support a football team other than the Gunners (joking) or the current government and all their ilk (not joking).
He was exuberant, irreverent, funny, off-kilter and wise. And a huge talent.
Of his poetry, Helen notes: Grant Tarbard had an art for the slanted and a keen sense of the gothic.  Each poem is a box of dark treasures in which he wrote candidly about pain, fear, the vulnerability of the body.  No matter how traumatic the raw material, he set about it with wit, intelligence, and lavish imagination. His words are a victory of the self.
Ink Sweat & Tears has been publishing Grant's poems since 2014 and there are more than 20 of them on our main site and in our archive. We have shared a selection below. You can find more by searching this site and the archive. (Some subject matters may be difficult to deal with at the moment – he never shied away from anything – so we suggest you give yourselves some grieving space before you do this.)
We miss him here, hugely. He was one of our stalwarts (though he questioned it when Kate used the word in a social media post).  We will organise some kind of memorial in time, but right now everyone is still in shock.
Love, light and peace, as Grant would say
**************************
The New Testament of Dog (July 2020)
Dog, elemental creature delving in puddles,
fully formed in mud, this body earth, all love
without mechanism, he is the murmur that nestles
into these delightful sounds of apocalypse. Enemy fire
turns off the crickets chirping. Dog's rolling papers
are crickets wings, he hunts them when they're out
to dinner, when they're as unsuspecting
as a box of kittens. Dog, din of hair, promises
stored in his nostrils, every time he sneezes
my luck gets better. When I'm at my naked self
my heels are to be regarded as mineral deposits,
when they're wrapped in the rags of a bedfellow
it's as if I have strange clothes, a lush coat, dog
whispers sawdust into the ears of my pockets,
after all, the ghosts that dog feared
were just children in mother's best sheets.
*
A Field Guide of Our Skin (May 2020)
This invisible body is a lithe
sacrament of flora, bluebell petals
reel dizzily from our thick drench of pores,
lilac deaths reek in our morning peeling.
This ill-lit musculature of fungus
is in a state of grace, symbiotic
yolks open a throat of locusts flitting
between a spit-less vignette of sinew;
flatworms rive in-between capillaries,
networks of hummingbirds smile at black wolves.
A chesty rattle of carnivores eats
droplets of greasy itches, our flesh creeps.
A field guide of our skin hasn't been written—
still, in old age the ears sprout hawthorn trees.
•
Gingham (February 2018)
Have you ever seen a scarecrow's babe?
On a rough hessian teat nuzzling, mewling
at the shadow of out-of-the-way crows,
Death's hands in the sky, lunatics of dew's
drench. Poultices in the shape of water
weep from the burdened old moon's swollen eyes,
soothe the babes ruptured gingham shoulder blades.
Everybody is bloodless in this house,
mother is a perfect silent trophy,
father quietly haunts the barley field
illuminated in the vestige of
autumn's Sacred Heart, a crown of hedgerow
thistles adorn father's aged stingy brim.
He clocks in, bound to a pagan oak cross.
*
Here is the Lampshade (NPD feature 'Light', October 2015)
Here is the lampshade, spiderweb Eden,
where I read under the unscrewed bulb of
a witches shawl. My sloe evenings spent
reading birth certificates and samples
of wallpaper manuscripts full to the
brim with deflated drunks teetering with
ruin. There's a bust of grief in those dog
eyed caviar pages, rich but onyx,
wild with heads of captured beasts, suburban
prophets high with dance of the Mad Hatter
and amnesia of days spent foolishly,
read on the luminescent filament
bedding, slavering with morphine's saffron.
With shovels of hands I dig through the sheets.
*
Nikolaos the Wonderworker (Christmas 2014)
Asthmatic pipe smoker, gift giver,
you wear a crown of holly fixed
on your Medusa strands,
beard of clouds stuck fast on top of wire.
A pile off of the tinker's cart in the crook of your arm
resting on your cauldron belly,
a painted rocking horse, a wooden doll,
a Union belt, a pocket watch stuck on 6.20,
pouches of tobacco and a cutlass sheathed.
You started as a pore and grew,
leaving dead Christmas trees
in your wake. Secretly you crept
like a pantomime villain placing
a coin in shoes left for tomorrow's feet.
•
What's the Time, Mister Wolf? (August 2014)
a short fairy tale
one night, at the Lime
Tree Palace, foul rascals stormed
the Mandarin Gates
guarded by the Pith
soldiers who were wet with chews,
twirling batons. The
court deftly tightroped
over the Royal Jelly
garden, tiptoeing
by the sherbet lake
to the slip safety of the
executioner.
Hooded in midnight
dressed in charcoal liquorice,
he was a stone wolf,
a black liquorice
executioner, an ore
wolf with a kiln heart
and he ate all of
them with a drear howl. Now, all
the stories are told