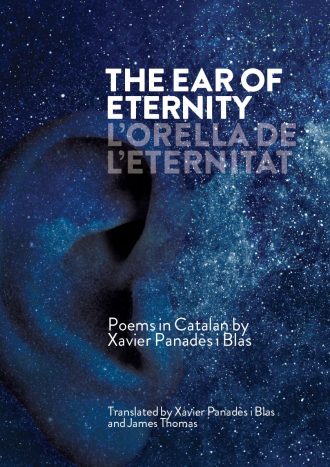 Xavier Panades i Blas, a Catalan-born poet now living in Wales, is passionate about two things: The first is his Catalan language and culture. The second is his writing, which comes from deep within the heart. His live poetry performances are vivid, unforgettable. He inhabits his words with a power that is impassioned, almost vehement. So I was interested to see how well this passion would translate onto the page.
The Ear of Eternity is his first collection, of a planned series of five, exploring the world of the Catalonian exile, where themes of the environment, Catalan identity, time, music and belonging mix with intensely personal experiences and wider political reflections.
The book is published in Catalan with translations into English. Having the original poems alongside their translations works well for the reader, enabling an appreciation of the beauty of the Catalonian language, and interplay of meaning, musicality and wordplay which is an essential part of Xavier's writing.
Exile and identity form an underlying theme of the collection, starting with the powerful 'Let Me Choose Who I Am', which, in a sense defines the whole collection:
I cry, I cry, I cry,
as yet I hear no call of
liberty.
From nowhere come rivers of blood,
even then do we confront
our eternal cowardice?
But this sense of otherness or separation extends beyond languages and borders. For the poetic voice itself is also that of intuitive observer, the otherworldly presence looking on and commenting on a world where it doesn't quite fit. There is a sense of frustration, a longing to escape the mundane, to soar for freedom, as expressed powerfully in 'Song for Birds':
I don't want to rot my brains mulling
on mortgages, family and pensions
That cut short my tiny eternity.
I want to be free as a bird,
Feel while doing nothing,
Hope while listening.
The Ear of Eternity is a collection where the personal and political meet without division or delineation, both acutely intimate and universal. In Xavier's poem 'I'm Your Son' we get a powerful insight into how it feels to be the subject of others' racial prejudices:
Remember, remember
that I'm your baby,
though of different colour,
I was born to be loved not tortured.
Often the rhythm of the poems feels elegiac or song-like, as for instance in the repeated refrain of Eternity: 'We're hiding it forever, between dreams and vices. '
But Xavier's style can also be angry and bombastic, or quietly philosophical. One of my favourite poems in the collection is the simple yet profound 'Teachers', which says so much in just a few simple verses, and ought to be sent to every teacher as an appreciation of their art.
It is rare to find a book where the poems and their translations carry equal weight, but I found this to be the case here. There were a few instances where the translated words brought me up short ('killing ourselves with cucumbers' in 'Let Me Choose Who I Am', for example), only to realise that this element of surprise was exactly what the writer had intended. In fact, the mixing of unusual or unexpected images seems an important part of Xavier's art, tripping the reader into finding new avenues of meaning behind familiar phrases.
Overall, I found this to be a stimulating and enjoyable collection. There are many poems I have found myself going back to multiple times, with phrases that lodge in the head and demand further reflection, such as the wonderful line from 'The Other Catalans': 'we cry for our brothers killed by the arms of your soldiers to steal the black oil – the soul of the darkness'. These are not dry, dusty academic poems to be read once then placed on a shelf and admired. These are poems to be lived, breathed and inhabited. Or, as the author himself says in his introduction, to be read 'as if you were crying tears from the conscious ocean'. Heartfelt, at times bitter, at others exultant, this is a voice that connects viscerally with the reader, transcending the time and geography in which it was written. I shall look forward to reading more.
Rebecca Lowe is a poet, editor and reviewer, based in Swansea, South Wales. Her poetry collection Blood and Water is published by The Seventh Quarry Press www.seventhquarrypress.com
Xavier Panades I Blas was born in Barcelona in 1970. He is a writer in Catalan, printmaker, musician and performer. He has produced numerous books of poetry and recordings of his music and has exhibited his artworks widely across the UK. He currently lives in Swansea. www.xpan.bandcamp.com.
The Ear of Eternity is published by Francis Boutle Publishers, and available here: https://francisboutle.co.uk/products/the-ear-of-eternity/