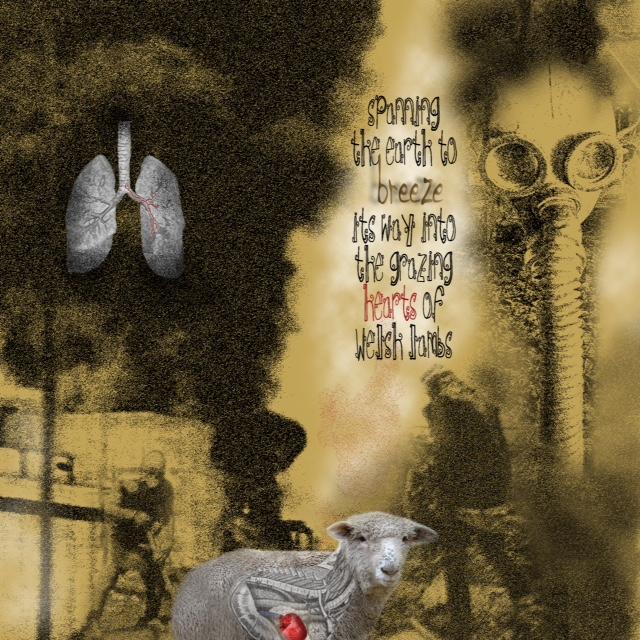 Chernobyl : past, present and future tense
It all feels sepia; liquidator-faces filling the coach windows
dust in the air, that grainy hue that will etch into their bones,
scrape its mark on their lungs, turn their complexions a fatal-yellow.
The 11-second-invisible dances off the brush like the ghost of a hair wisp
into the debris; it falls silently, with the reactor roof tiles and our breath
and there is another story that finds its way into this one,
thirty years later, of world collaboration to cap this atomic disaster
we work together to cover our mistakes the world over
then curl up behind borders again until next time;
global troubleshooting with social energy— a concept which works
at a peace that lets scientists sleep at night. From human seconds
on the site to the robot-construct of a 100-year-concrete hull,
even the paint is hopeful to keep the rust off the metal. It must hold
because the atmosphere has been slow-soaked for over 30 years
the oblivious fish in the site lake look normal; wear radiation
like an enigmatic smile, would you count it as clothing? It hugs so.
I struggle to hold the geiger counter, watch those deer again
and juggle the daylight through the black squares of buildings. I hear a bird,
look up and shudder at the thermal proportions of cirrus
that drew the hot spent-fuel-moment high into the clouds, spanning the earth
to breeze its way into the grazing hearts of Welsh lambs.
Helen Pletts:
(
www.helenpletts.com
) (Instagram @helen.pletts) Working collaboratively as Word & Image by Pletts & Berger with illustrator Romit Berger, since 2012 (published exclusively online by 
www.inksweatandtears.co.uk
). Helen's poetry was consecutively shortlisted for Bridport Poetry Prize 2018 and 2019, twice long-listed for The Rialto Nature & Place Competition 2018 and 2022, and longlisted for the Ginkgo Prize 2019. 'The plane tree entertains the circus of doves' won the
Ink Sweat & Tears
Pick of the Month in March 2019.
Romit Berger: "I am a graphic designer. I met my very dear friend, Helen Pletts, in Prague, several years ago. Helen's inspiration has led my graphic design career into that magical realm which combines illustration and poetry, and our creative wings continue to connect our souls through time and distance."

'Chernobyl : past, present and future tense' will be published the Pletts & Berger's forthcoming Word & Image collection 'your eye protects the soft-toed snowdrop' out from Gama Poetry Press (Israel) this month.