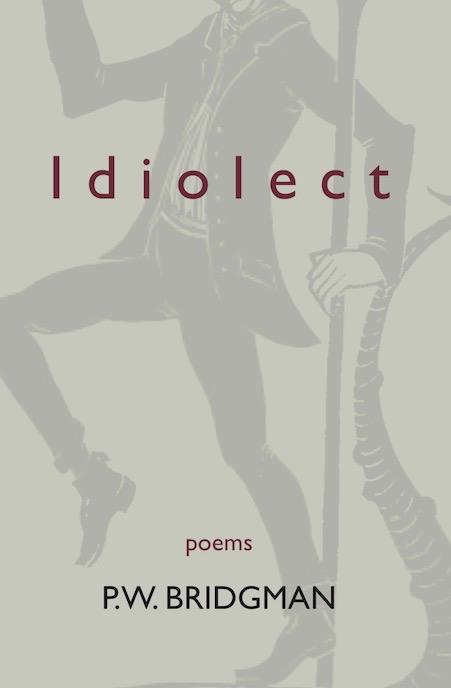 Peter Clarke Reviews Idiolect by P.W. Bridgman
P.W. Bridgman's second collection, Idiolect, has been sitting on my desk for a while now. This has allowed me to dip into it from time to time after first reading, to be reminded of how original is his writing. Bridgman is the nom de plume of Thomas S Woods, a Pushcart Prize-nominated writer of poetry, fiction and literary criticism who lives in Vancouver, British Columbia, Canada. He has, to date, published two books of poetry and two books of short fiction.
The title Idiolect is defined as the speech habits peculiar to a particular person. In the collection Bridgman uses the English of America and Ireland to capture the characters of the poems, as in Butcher:
Making pots of money . . .
And pots more at the races.
Brilliant, now if you'll excuse me, I've got my bleeding lambs to dress. 
And in Candlestick Maker:
Ciarán says "drive". Niall says "ride" or "walk"
In so doing his own idiolect in other poems reveals him as an erudite and observant writer.
To start, the titles of the poetry groupings: The Unresolved, Some Fors and an After, Dafda, Albion, The Unlovley, Ekphrasis and The Others are real guides to what might be relished. Call and Response is a startling opening poem portraying systemic care home abuse:
Parched, bladder shrivelling like a dried fig, everything a blur without his specs, Sprinter Gaunt hasn't the strength
         to reach for the call button that dangles, unplugged, from his bedrail.
This leads into the next two poems on older persons. They make for a dramatic trio. 
In the poem, The Conversation, he nimbly gets into the voice of a teen in revolt:
isabella
ibis
ibis
sorry
ibis can I just
no just stop im like so done with you dad
Every parent's recurring nightmare. He so dramatically and understatedly captures the awfulness of the migrant situation in Business Class, riffing off Gourds by Andrew Parkin:
But-
Just listen! When you're close to the white ship, you cut the engine
by turning this key (pointing)
But-
Listen! Then you let the boat drift up alongside the white ship. They'll help you climb aboard.
There is a great opening in the first lines of Ode to Odean:
She's a reader's bookseller:
old school, the real thing; indeed,
a reader's reader.
A deep thinker.
The creative piece, The Ghost in the Machine: Modern Irish Poetry Reimagined by the iPhone, in which he enters lines of famous Irish poems into a text app to be subverted by Predictive Text, which has bizarre results. I'm not sure they have a place in the collection. The Sacred and the Profane has a wicked twist:
Perfectly, rapturously memorable,
the finale obliterated, alas,
by the harsh exhalation of a faraway hand-dryer.
His titles, for example, The Empty Chair Makes the Widow Cry, Etc, draw us directly into the poems. Among the group in The Unlovely there are surprising twists (he has devious sense of humour). In Bang! Bang! A Non-Apostolic Regression he takes quotes from Elizabeth Smart's The Assumption of Rogues and Rascals and builds highly imaginative vignettes of the twelve apostles, as he also does in The Unholy Trinity with The Butcher, The Baker, The Candlestick Maker to terrific effect. He takes Louis McNeice's Bagpipe Music as his kick off to have a go at the Brexiters, and his illustrative ekphrasis poems jump off in personal and original, but informed, directions.
I am unsure about the last pieces, for example, another pastiche of MacNeice, or Six Stupid . . . There are quality poems in the book that stand well on their own, in my view.
His poetic forms, structures and composition are hugely varied and rich. He has a fondness for the long line in the vein of Ciaran Carson and some of his more conversational poems remind me slightly of Rita Ann Higgins.
It is a collection that I have loved reading and rereading and it is also a collection that encourages me to be braver and more daring in my own writing. I recommend it to you.
Peter Clarke completed a Master's in Creative Writing (Poetry) at Manchester Metropolitan University in 2021; has been published in aAh Magazine, in Pure Slush Anthology, Lifespan, vols 2, 3, 4, 5 and 6; in the Bealtaine Anthology 2013; was shortlisted in the 2019 Hammond International Poetry Competition and short listed in the Hedgehog chapbook prize in 2021.
P.W. Bridgman's Idiolect is published by Ekstasis Editions and available here: http://www.ekstasiseditions.com/recenthtml/idiolect.htm