Creative thinking outside the box
…describes perfectly the effect that Topher Allen's 'The Gods Are Addicts' had on voters and it is for this reason, as well as the poet's voice, his perspective, 'fiery imagery and subversion of religious tropes', that it is the Pick of the Month for May 2022.
Topher Allen is a poet and fiction writer from Clarendon, Jamaica. His work explores Jamaican geography and the island's cultural and historical experiences. He is an Obsidian Foundation Fellow whose work appears in Montreal Writes, Pree, Poetry London, Magma, Ambit and elsewhere. Allen won the Poet Laureate of Jamaica: Louise Bennett-Coverley Prize in 2019 and was shortlisted for the Bocas Emerging Writers Fellowship in 2022.
The Gods Are Addicts by Topher Allen
It's better to be cremated, the only way to heaven
is as smoke. Burials are the devil's idea
to harvest bones, to set them ablaze and raise hell.
Volcanic eruptions are his failed attempts to ascend.
Kerosene-lamps know this, throw one
into a cane field, strike a match and watch it erupt
into a flock of frightened crows.
The Gods are addicts and the moon is a crystal
ashtray; craters are where they press the tips of spliffs.
The stars aren't shards of a shattered sun,
think of them as cigarettes at invisible lips.
Perhaps bush fires are the Gods committing arson
for a high.
Voters' comments included:
A writer who knows understand his artistry and cleverly always step over boundaries in creative ways.
Because it made me consider the subject in a new way and I find it hauntingly moving
It's alive, political, made to be heard.
Loved the wording! Loved the play on words!
It was very intriguing as I've never thought of the moon as an ashtray, so I think the comparisons are very clever
Beautifully written to create a vivid image of his play on words. As I am reading, I am involved in the experience this poem is meant to create. Love it.
The poem is excellent, great use of language and tone
It's just very moving. As a Jamaican I connect very well with his words
Relatability. Use of and play on words. Evocative
It is just simply the best out of all that I've read well written and detailed 👏
He is very good with his words and putting it vividly on paper
The poet has a unique way of expressing himself that is both refreshing and relatable.
This poem has a perspective that I would have never considered
The voice of the poem is awesome
I can relate. I like the line about cremation being the way to heaven.
The poem was short with ending complete. The content was relatable with just enough hidden humour
Great writer and scholar.
It's the most powerful and captivating
The poem is beautiful.
It leaves you wanting more.
Topher's poem does a good job of exposing that which we are familiar with in a fresh and evocative way.
muy bien escrito
Perspective and form
It makes me feel like god is in me
It's the bomb. Period!
*********
THE REST OF THE MAY 2022 SHORTLIST
Turning by J V Birch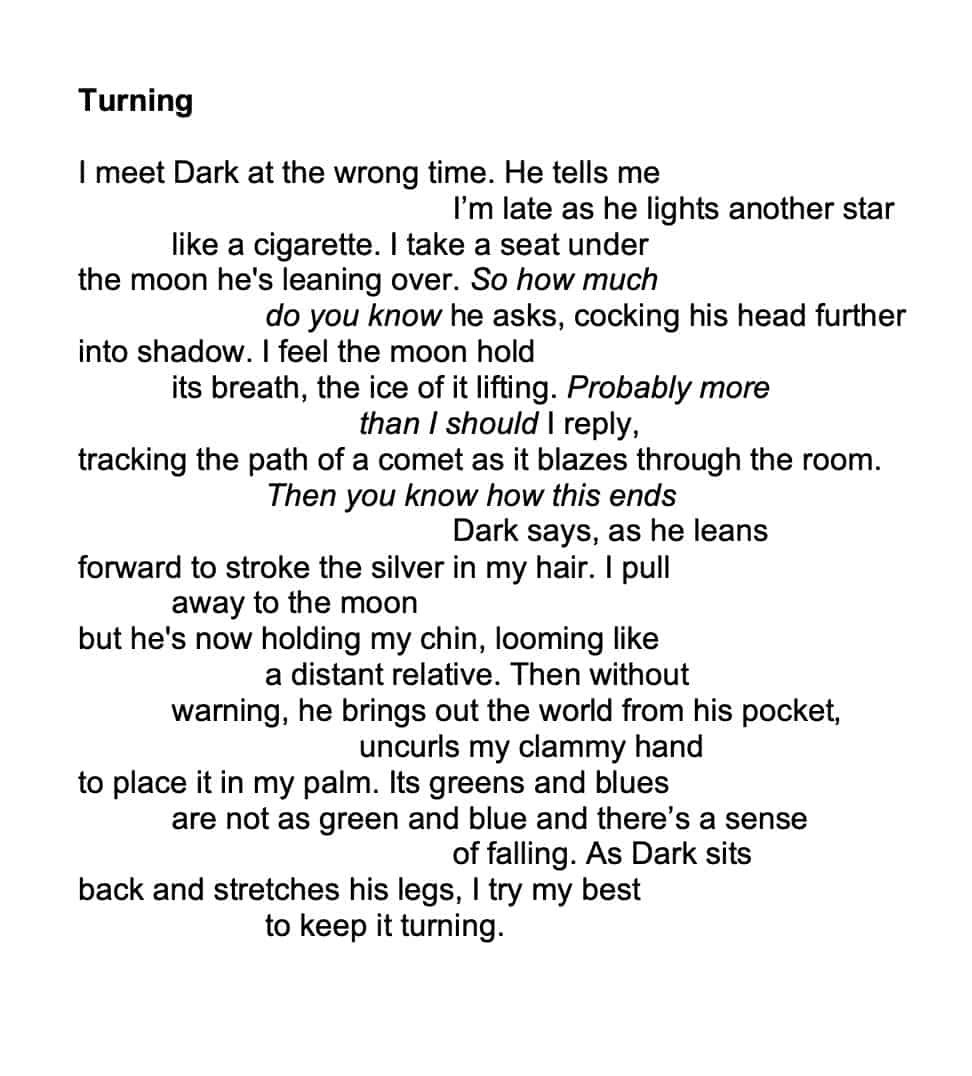 J V Birch lives in Adelaide. Her poems have been anthologised, exhibited and published in Australia, the UK, Canada and the US. She has three chapbooks with Ginninderra Press and a full-length collection, more than here.
*
Stash by Sonia Burns
Your spaces silently narrow –
slowly clogging arteries, plaque
formed out of photographs,
boxes stacked and shelves
furred up, records, CDs, DVDs.
Kitchen stuffed with cookery
books, spiralisers, coffee machines
and avocado-half-holders;
although you only eat
shop-bought sandwiches.
You just-in-case curator
of paperclip collections, plastic
bags in plastic bags, kooky
cat-themed accessories,
shrewd car boot sale bargains,
teaspoon souvenirs, steaming
pot plant jungles and perfume
bottles just for show;
although nobody visits you now.
Your screams of anguish
smothered, by piles of tea towels,
never used, sheepskin rugs
and blankets, new clothes
with the tags still on, threadbare
vintage jackets, jazzy earrings
sifting dust, designer trainers
for that trendy hip hop look;
although you don't go out these days.
You stent the walls with vague talk
of sorting out and getting rid
but you are crushed beneath it all,
your breathing becomes agonal.
Only the stuff of life remains,
like fat congealed inside a vein
or papier-mâché around a balloon;
left behind for us to pick through.
Sonia Burns is a poet, performer, community worker and workshop facilitator currently based in the East Midlands. Her first poetry chapbook, Umbra:philia, was published in November 2021 by the Derbyshire based Bearded Badger Publishing Company.
*
Möbius Strip by Mark Carson
reducing her life to seventeen bullet points
was simpler far than she'd somehow imagined
and she had them graven in cursive script
on a one-sided strip of her native silver
given a twist by a cunning smith
hammer-welded so the text is continuous
with the tip of his finger he traces
the edge of the strip with one edge
and one surface, re-entrant and cursive
like a nightmarish earworm, a catch
in four parts, with recursive remorse
and the cyclical tides of unable to finish
Mark Carson has published two pamphlets with Wayleave Press, Hove-to is a State of Mind (2015) and The Hoopoe's Eye (2019).
*
How Young Bodies Work
Grace…in that light was a promise of balance – Joy Harjo
O timeline drop us here
the moment you step from the subway on 23rd
the boy spinning on his back / popping air
O body sharpening skin into spin
solo show staged on asphalt
deep boombox as gospel / as call and response
O instigator of moving level with the street
insistence of beats joy on his face
crowd around the B-boy / to see the freeze
O spilling out of song spilling out
the body at angles out in the open
without pause / downrock not ever astray
O living as we live never ready to stop
O the shape of that moment
A boy not seeing what he begins
thank you balance
thank you lightness
thank you grace
O
the sound of breath without vibration
is saying something without words it is
the body saying look at what I can do
it is synapse, reflex-wise noise not
knowing just doing things naturally
that here look unnatural in the spin
flip freeze drop pause and we marvel
at the body sharpening angles to
the asphalt not a moment off beat
we are holding our breath at
the possibility of a body's belief
in itself we are a spectacle at the foot
of someone who understands what
it is to be in a body what it is to feel
music what it is to feel everything
balance lightness grace
Andrea Holland teaches Creative Writing at UEA and is the author of two collections of poetry, Broadcasting, which won the Norfolk Commission for Poetry andBorrowed, a finalist in The Poetry Business Book & Pamphlet Competition. Individual poems appear in journals and anthologies, including The World Speaking Back: poems for Denise Riley, and in 2021 she had a poem nominated for the Pushcart Prize.  She is a contributor to The Portable Poetry Workshop (Palgrave/Macmillan) and has published several articles on poetry, writing and collaboration. Her new collection, High Wire, is forthcoming from Story Machine/Gatehouse Press.
*
Noticeable by Jacob Mckibbin
The greatest quality of the only person who has ever noticed me is that they think
that I'm noticeable. In school everything that made me noticeable made me a
target: the birthmark on my face that everyone in my class gave a different name.
Everyone noticed that I wrote Jacob with a d instead of a b on the frontcover of all
my schoolbooks. When only one person has ever noticed you it's not possible for
them to ever notice you enough. In our conversations the amount of time that
passes between when a text is sent and when it is replied to always communicates
more than the message itself. When I get ignored I try to think of all the silence that
it makes possible. Every time that I turn on my phone I notice how the cracks in
the screen make it look like something has rooted beneath its surface. Make it look
like something is about to break through and blossom.
Jacob Mckibbin is a poet and writer from Oxford. He has had work published in several magazines including The Rialto and Oxford Poetry.