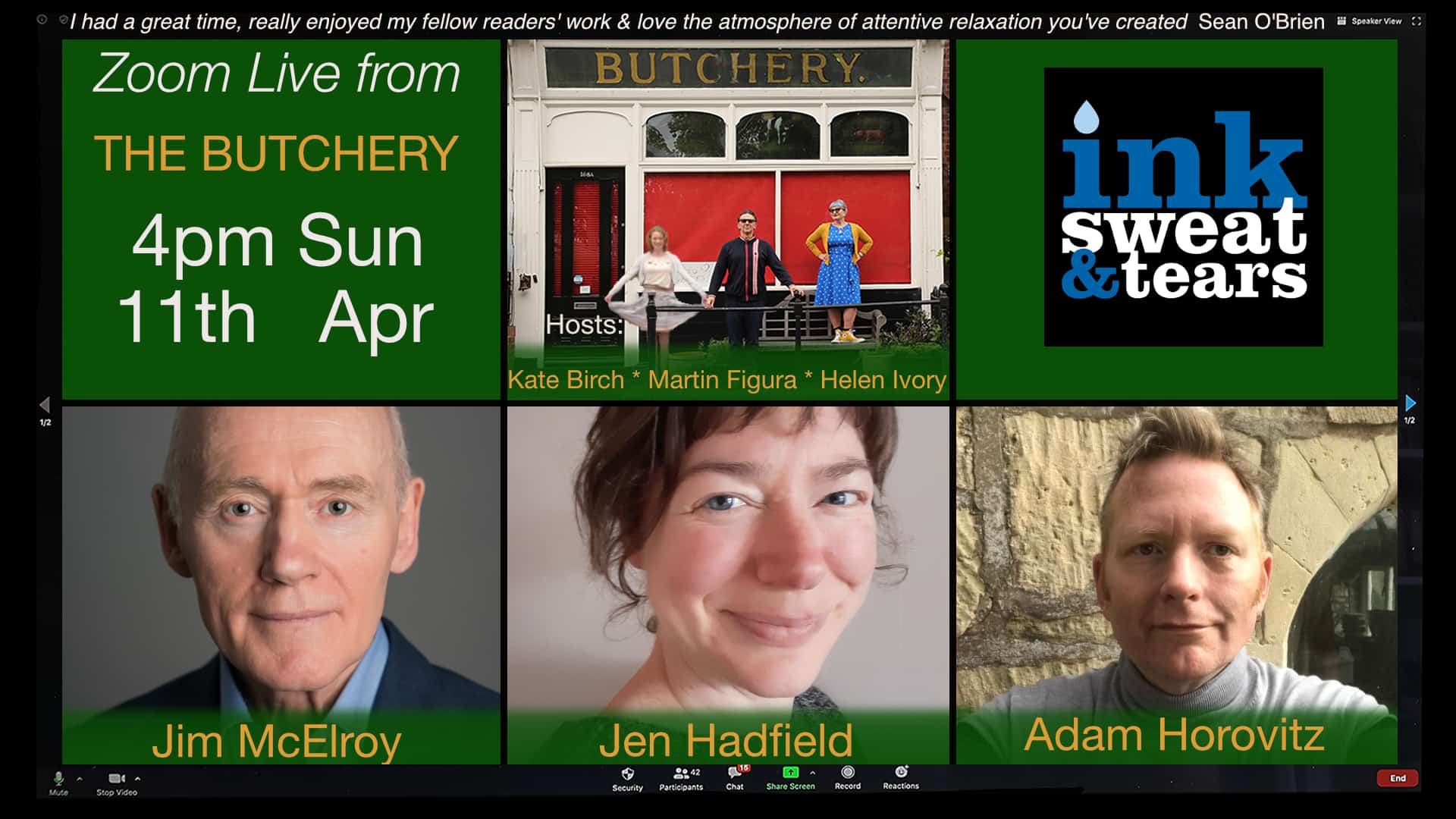 Please join us on zoom for live readings from Jen Hadfield, Adam Horovitz and Jim McElroy  on Sunday 11th April at 4pm GMT
This is part of  our monthly  'Live from the Butchery' series, hosted by Helen Ivory and Martin Figura from their home (an old CoOp butcher's shop), and IS&T publisher Kate Birch.
Email Kate Birch at inksweatandtears@aol.com before the Sunday for meeting details.
Shadow
So this is where I left my
shadow – italic,
underweight – stashed
like a tushkar in the
corner of your kitchen.
What it god's name have
you been feeding it?
Dark plates of hashed
hellery, like pie for birds;
long winter or the berried
dark – I can't believe my
delinquent shadow – fat
and glossy – full as a tick –
muddy shadow running amok –
shagging this bright rock –
the hill – snaps mockingly to
attention when I cry
Heel! Welling bottomless
at my foot – roosts in my
clavicle – opens its throat.
You press on me the leash
of my shadow. Say, Open
the granite wardrobe of your breast.
Fold in your shadow
like a warm, winter coat –
Jen Hadfield was born in Cheshire and lives in Shetland, whose landscape and natural life persistently informs her work. Her second poetry book Nigh-No-Place(2008, Bloodaxe Books) won the T.S.Eliot Prize in 2008. Her third poetry collection, Byssus, was published by Picador in early 2014.
Her new collection The Stone Age is an astonished beholding of the wild landscape of her Shetland home, a tale of hard-won speech, and the balm of the silence it rides upon. It is a Poetry Book Society Spring Choice 2021 and published by Picador
*
Brandy
i.m. Anne Stevenson
I remember that first, illicit shock of brandy
you gave me, aged eleven, as medicine
for the kind of pain that mothers remedy
with a hand cupped behind the head, foreheads
pressed together so that both sets of eyes
dissolve into a single pool. It stilled tears with fire,
swarmed my tongue like vicious ants, broke
the ramparts set around a child's capacity to love
and, though all the words we spoke that night
have gone into a cloud of un-remembering,
I can still feel your hand upon my shoulder,
the fierce kindness of your eyes, that tight smile
balanced between humour and rebuke.
I never told my mother that I'd wept, or how
you'd quashed my fear of absence,
or that I'd slept untroubled in a strange bed,
my heart and head entirely subsumed
in the brandy's blue portrayal of a flame.
Adam Horovitz is a Gloucestershire-based poet, performer and editor. His first full collection, Turning (Headland, 2011), was followed by Little Metropolis (a CD of poetry and music commissioned by the Stroud Fringe Festival in 2015) and The Soil Never Sleeps in 2018. He is one of Ledbury Poetry Festival's Versopolis poets, and was poet in residence for Herefordshire and the Pasture-fed Livestock Association. He is one of 10 poets to appear on Cerys Matthews and The Hidden Orchestra's album We Come From the Sun (2021). His next book, Love and Other Fairy Tales, is coming soon from Indigo Dreams Publications.
Link to Adam's website and books:
*
Hoor
He called Widow Welsh that poor oul hoor,
in winter he'd send me up with fresh eggs;
next door, Joe McNab was tight oul hoor,
said he would count every bleedin' penny;
the right oul hoors lived on the Rock Hill,
I was let play with their right wee hoors.
Passing pedlars, scammers were all cute hoors,
the tax man, a connivin little hoor's bollix.
I followed his hobnail crunch, oily overalls
round the farm, annoyin his hoorin head:
too many questions, go ask your mother.
At school, if I passed exams, he gave me
right quick wee hoor. Out on the moor,
neck veins bulging like baler twine,
he'd scrum hug boulders into position,
build ditches; at stubborn stones, sleeve
off brow sweat, stare at its granite belly,
christen it a heavy oul hoor; over lunch,
on top of stones, he'd share out soda farls,
cheddar slabs, pour our cuppa tay, tell me
to thank your Mother; as he lit his pipe,
he'd point out hedges needing trimmed,
the opening crops: ripening corn, barley.
When I left for the city, autumn's thresher
was gulping wheat sheaves; I watched him
grimace as he kneed obese seed bags up
to the trailer; through the belt slew, thrum,
he yelled mind yourself, to watch out for all
them cute hoors. Later that winter, the switch
put her call through, told me, your mother's
on the line – I was to come home quick.
Still in his overalls, he lay on the bed; fresh
muck clung to his hobnails: right oul hoor
found him slumped over granite; I bent down
for our first kiss – his hoorin head, cold as stone.
Jim McElroy is based in Belfast. He grew up on the family farm in the Mournes, County Down. Following a career in business and technology, he was first published in 2018. In 2020 he was Winner of the Francis Ledwidge Poetry Award, shortlisted for Rialto pamphlet Award, Bridport Poetry Award, Cúirt New Writing prize, Runner-up in the Fingal Poetry Prize and nominated for Pushcart prize. In 2019 he was runner-up in the Bridport Poetry Award, selected for Poetry Ireland Introductions and awarded an Individual Artist Award by Arts Council NI. Jim has just won the Seamus Heaney Award for New Poetry.
See Jim read Hoor which won 2nd place in The Bridport Prize, here: https://tobeirish