The subject matter is important and is expressed with grace and craft – the pressure of whiteness and what passes for beauty.
A comment that encapsulates why Jenny Mitchell's deeply personal yet universal and multi-layered 'Vanishing Mother' is the Ink Sweat & Tears Pick of the month for January 2021, no easy task with such a strong and eclectic shortlist!
Jenny has won several poetry competitions. A best-selling debut collection Her Lost Language is a Jhalak Prize #bookwelove; and One of 44 Books of 2019 (Poetry Wales). A forthcoming collection, Map of a Plantation (IDP), will be published in April 2021. Jenny Mitchell – Indigo Dreams. Twitter: @jennymitchellgo
Vanishing Mother
A jar of Pond's cold cream glows
in amongst her female debris
on the dressing table; talc
sprinkled with a lipstick smear
across a comb. Tissues fluff out of a slit –
half-done magic trick
beneath a heart-shaped mirror,
picturing the mess made of her room:
a king-sized bed stacked high
with queen-sized blankets.
It is like her clothes – layers but too small;
skirt hitched at the back;
hinge of bulky knees.
The open jar displays her haste,
a shield of foil jabbed into snowy peaks,
in contrast to her shade – the lightest brown
for someone black;
called dundus growing up – Jamaican for albino:
a throwback to slave masters
troubling our family line.
I long for it, the cream,
to smooth her blemishes. In adverts on TV,
white women own the miracle of cheekbones
that never sag as they stand tall
to gaze into a pond,
reflecting back their pristine skin.
Other voters' comments included:
Exquisite, delicate craft, evocative imagery and incredibly important Black experience narrative.
The poem is skilfully written, employing metaphors and strong imagery in the minds of readers. I'm very particular and impressed with the second stanza that describes racial experience in Jamaica as a colony. The line: "the lightest brown for someone black; called dundus growing up – Jamaican for albino: a throwback to slave masters troubling our family line" captures at a glimpse about the stressful relationship between slaves and their masters. A classic rendition I must say.
I like the initial portrait of the mother through things and then the uncomfortable message about skin and privilege which she leaves us to weigh at the end. Great title too.
Not only is it a beautiful poem it is also important as it gives expression and voice to the lived experience that has largely been excluded. Jenny's work is instrumental in creating space for this.
This piece addresses the manufactured quest for being and looking White, in a manner that reminds us how damaging these messages are. It's as if the character does nothing else but seek pristine porcelain skin. It evokes such tragic sadness in reader.
Insightful with a clever switch of meaning in the middle
Jenny conveys the beauty in ordinary images like no other.
I adore all of Jenny´s work. This poem is powerful, beautifully wrought, and urgent. That last image of the white woman gazing into a pond, especially, is at once stunning and gut-wrenching.
a double-punch at the end, incredibly powerful.
It speaks as someone talking person to person
A simple commonplace act reveals layers of meaning, beautifully understated and all the more powerful. We all feel it.
The poem is arresting and haunting, with a compelling sense of line
Such an exquisite, quiet, well-crafted poem. I loved it from line 1.
This is such a powerful piece and really grabs the reader in an arresting manner!
A delicately written reminder of terrible standards of beauty imposed by decades of oppression
So very relatable. Jenny captures the realities of Black Caribbean culture (particularly Jamaican) in a British society. Her use of pace builds a solid structure in one's mind of the events as described.
Beautiful deep writing. This poem has stayed with me since I first read it.
Through sweet inanimate objects Jenny's poem goes straight to the heart of that strongest of emotions: remembrance.
It's such a powerful invocation of a racialised mother and the complex feelings of the daughter towards her.
Jenny's poem is so strong, and her voice is calm and clear. Powerful combination.
I love the parallel between the pond of Pond's cold cream and the mirror. Beautiful imagery, tenderly drawn portrait of the poet's mother.
About absence, and what comes through in the blood – all the subtleties of loss and damage.
Not only is it a beautiful poem it is also important as it gives expression and voice to the lived experience that has largely been excluded. Jenny's work is instrumental in creating space for this.
It is a beautiful poem and reminds me of when you lose a mother and things that remind you of her. Spot on!
Technique, structure, story telling
So much comes out of that jar of cold cream, in just 2 stanzas. Lovely language as well, 'troubling our family line', 'the miracle of cheekbones'. A really absorbing poem.
*********************************

THE REST OF THE JANUARY 2021 SHORTLIST
Wave by Julian Dobson
We have learned to wave distantly
through glowing windows    glimpsing
a well-placed bookcase or houseplant
imagining the corners of a room
their piled-up flotsam
we have learned not to ask
what happens at the watershed
we observe flows    swelling
dull chocolate-custard brown
we imagine crossing on dark boats
we have learned to still ourselves
appreciate meltwaters' rush fear
birdsong its inaudible
depreciation    measure time
by clanging scaffolding
we have learned to watch buildings
dip their toes in autumn
calculate seepage into cellars
observe potholes yawn open overnight
mushrooms burst through tarmac
we have learned to amble
in repeating patterns    wear
constantly muddy shoes    and
as if they'd share our hopes
wave at dog walkers on distant banks

Julian Dobson lives in Sheffield. His poems have been published in journals including Magma and Under the Radar, and on a bus in Guernsey.
Towards A Dennis O'Driscoll Re-write of A Cesare Pavese Poem by Kevin Higgins
Stupid takes after you, its smirk
the one you wear while confidently doing
whatever it is you do worst.
You wouldn't recognise stupid
if it superglued your eyes open,
threw a bucket of water on you, and sang
"I am what I am" in your ear
with a megaphone.
Stupid can give you a back rub
from the other end of a crowded room.
When stupid comes it will be wearing a coat
made of ideas it stole from you.
Stupid points a water pistol at you
and demands the handover
of your head in its entirety.
Stupid opens your skull with a mechanised
tin opener and goes for a walk inside.
Then stupid takes the steering wheel
and starts driving your thoughts
down motorways at twice
whatever the speed limit is.
Stupid will take your brain
from its box and marshal it
into a circus act that'll make
people leap laughing onto train tracks.
Stupid will take your history and give it
to TV comedy panel shows to rewrite.
Stupid lashes out at all your best ideas
until they lie, a defenceless mush,
on the autopsy table.
Stupid cries on shoulders
that are not its to cry on.
You are up to your raised eyebrows
in stupid.

Kevin Higgins is co-organiser of Over The Edge literary events in Galway, Ireland. He has published five full collections of poems: The Boy With No Face (2005), Time Gentlemen, Please (2008), Frightening New Furniture (2010), The Ghost In The Lobby (2014), & Sex and Death at Merlin Park Hospital (2019). His poems also feature in Identity Parade – New British and Irish Poets (Bloodaxe, 2010) and in The Hundred Years' War: modern war poems (Ed Neil Astley, Bloodaxe May 2014).  His poems have been quoted in The Daily Telegraph, The Independent, The Times (London), &The Daily Mirror, and read aloud by Ken Loach at a political meeting in London. The Stinging Fly magazine has described Kevin as "likely the most widely read living poet in Ireland". His work has been broadcast on RTE Radio, Lyric FM, and BBC Radio 4. His book The Colour Yellow & The Number 19: Negative Thoughts That Helped One Man Mostly Retain His Sanity During 2020 is just published by Nuascealta. Kevin's sixth full poetry collection, Ecstatic, will be published by Salmon this summer.
Untitled (Bible cut-up) by Dave Hubble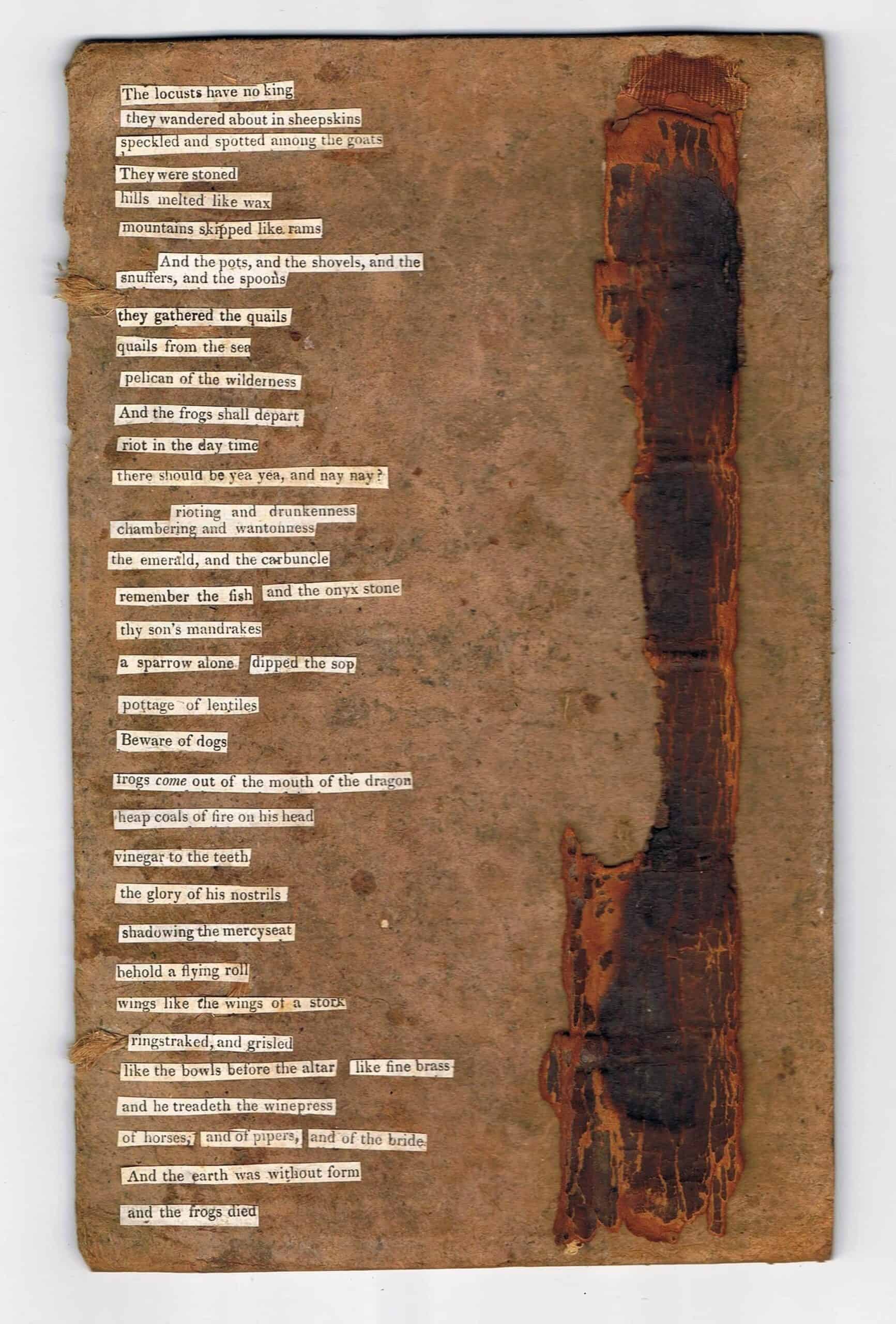 The locusts have no king
they wandered about in sheepskins
speckled and spotted among the goats
They were stoned
hills melted like wax
mountains skipped like rams
And the pots, and the shovels, and the
snuffers, and the spoons
they gathered the quails
quails from the sea
pelican of the wilderness
And the frogs shall depart
riot in the day time
there should be yea yea, and nay nay?
rioting and drunkenness
chambering and wantonness
the emerald, and the carbuncle
remember the fish and the onyx stone
thy son's mandrakes
a sparrow alone dipped the sop
pottage of lentiles
Beware of dogs
frogs come out of the mouth of the dragon
heap coals of fire on his head
vinegar to the teeth
the glory of his nostrils
shadowing the mercyseat
behold a flying roll
wings like the wings of a stork
ringstraked, and grisled
like the bowls before the altar like fine brass
and he treadeth the winepress
of horses; and of pipers, and of the bride
And the earth was without form
and the frogs died
Dave Hubble is a poet and visual artist based in Hampshire. He performs, hosts and writes about poetry. In 2019, he won the Bread & Roses poetry award and founded the Ghost River collective.  He used to be a scientist. Navigational Array (Dense Weed, 2017) Blog: davehubblewriter.wordpress.com
do not eat by Cleo Madeleine
you dry out my tongue, dry off, dry off, wither in my mouth like the ripe white leg of a lamb
breach-born, caught dangling between guts and dew, fingers of mist still laid in the valley
biscuits in a long cardboard tube sticky with crumbs, the dry wafers grandma kept
at the back of the pantry, dry off, dry out, it hurts to eat you o my desert, my desert
we are the swallowing kind, second-placers, we are the hot gravel standers, eye-shielders
we are the grim reminders, the half-forgetters, we are the stand, the regret, the watercourse unswum
stand and reflect.
in those days i would have impaled an insect on a straw or a thorn, cast about like a ritual
magical gesture, life threaded, as if by my command the lock-gates would rise and fall
teeming with fish, fish teeming around my legs in green-brown wreaths, teeth like shrikes
dry mouths, dry eyes, blind and half-dead in the court of monsters, brain-damaged, gasping
caught in the throat, we were the hot asphalt kneelers, tiny black prayers dug out of our shins
we were the half-drowners, the suicides unsunk, our teeth turned to endless miles of shingle
tumbling from open mouths, open as history, open as doors are open, buried as dead are buried
soft and dry as glass.
the sea is in my blood and so you boil the sea, and the floors of my hollow organs tense with scorch
salt meat, salt fish, hot ash as it rolls in pyroclastic flow to the sea, pressing us like souvenirs
we are safe in this house of glass and ash, where the wind whistles through our pumice bones
laundromat vents and sandalwood, my mouth swells to meet yours, my lips like fistulas a tiny o
my love, my love, you dry out my tongue and i do not have the teeth to eat furniture or dirt or
poison, the poisoners, they showed us on television so we'd know their faces, poison-sowers
drinkers of rivers and watchers of dark and hazy coastlines, distillers of fine spirits and time, o
time for one more.

Cleo Madeleine (twitter: @quidtumcicero) lives in Norwich where she studies queer time at the University of East Anglia. Outside of the university she teaches, organises trans rights activist projects, and is half of the queer comedy podcast pronouns in bio.
Telling the Bees by Anna Saunders
Little vials into which the sun has poured
I tell you all I know
about the failing crop, a marriage party,
a stricken cow.
Last summer I tied a ribbon
to the top of your home,
whispered with a sweet tongue
that a new master had come.
Winged engineers
you shape hexagon from wax,
craft perfect tessellations –
there is little I could teach you
but much I can share.
Gold furred confidants
today we speak like pelted sisters.
I whisper of when I licked the sweat
of his back as he slept
how love leaves a bitter taste to the mouth,
how men bring salt, not honey.
It will seem that the night has come early
as I cover you in black silk,
knock on each hive to spill my message.
I will sing as I dress you,
a doleful tune of death and desertion
my words a soft drone
Little bee, our lord is dead
Leave me not in my distress.

Anna Saunders' most recent collection is Feverfew.  She is the author of Communion, (Wild Conversations Press), Struck, (Pindrop Press) Kissing the She Bear, (Wild Conversations Press), Burne Jones and the Fox ( Indigo Dreams) and Ghosting for Beginners ( Indigo Dreams, Spring 2018). Anna has had poems published in journals and anthologies, which include Ambit, The North, New Walk Magazine, Amaryllis, Iota, Caduceus, Envoi, The Wenlock Anthology, Eyeflash, and The Museum of Light. Anna is the CEO and founder of Cheltenham Poetry Festival. https://annasaunderswriter.co.uk/