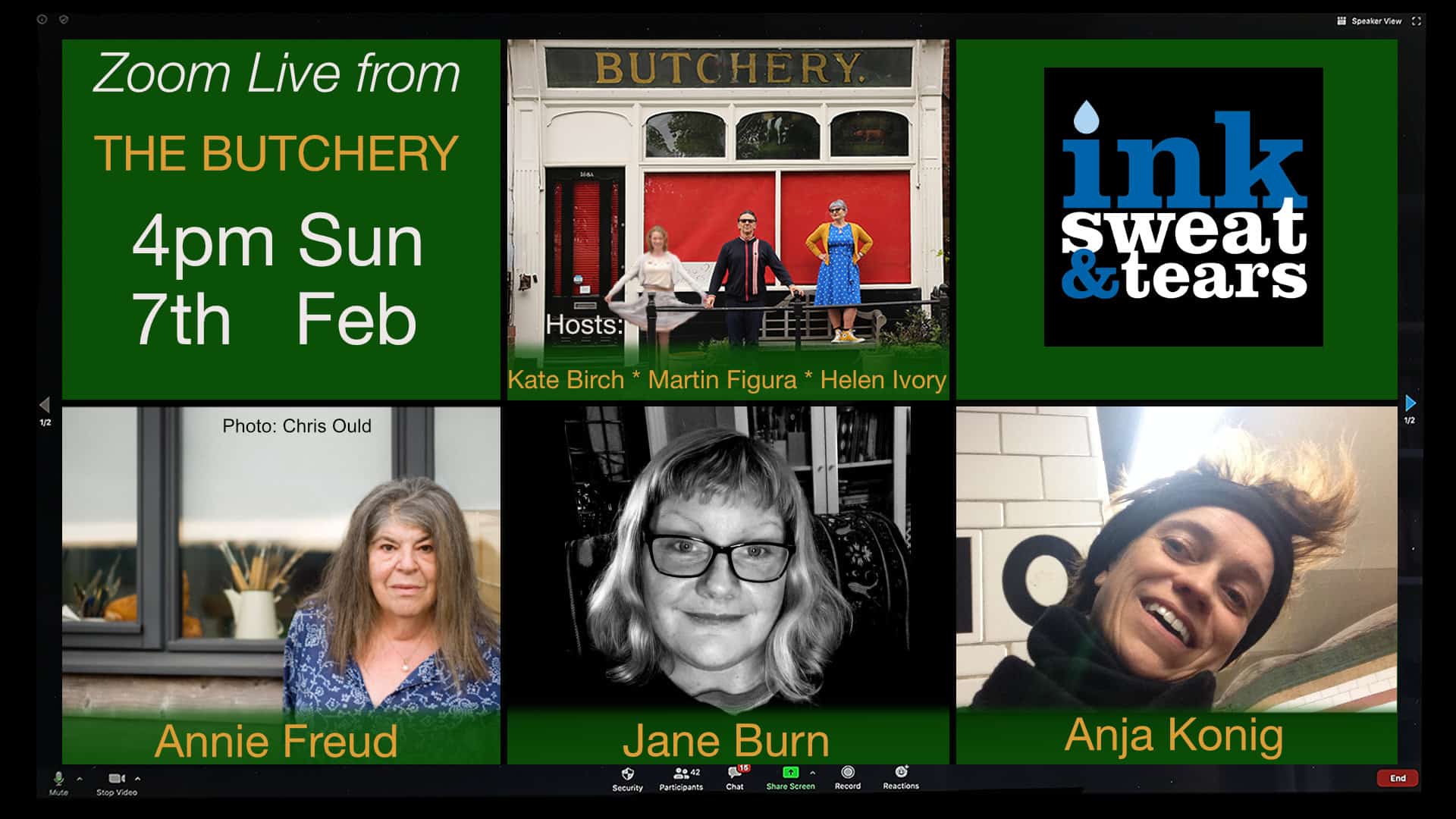 Please join us on zoom for live readings from Annie Freud, Jane Burn and Anja Konig on Sunday 7th February at 4pm GMT
This is part of  our monthly  'Live from the Butchery' series, hosted by Helen Ivory and Martin Figura from their home (an old CoOp butcher shop), and IS&T publisher Kate Birch.
Email Kate Birch at inksweatandtears@aol.com before the Sunday for meeting details.
The Aphorism,
when first discovered is like meeting someone you've met before but whose name you have forgotten
stimulates the part of the brain known as the amygdala
coils itself twice around your neck and lets go just before it asphyxiates you
inflicts the sharp but short-lived pain that a piece of Lego deals you when stepped on in the night
appears to favour depth above breadth
creates the impression of a language practised among elite societies
creaks like a ring-pull on a can of coke
would choose plimsolls if it could choose shoes
recalls the sensation felt when holding the miniature of a long-dead person
in your hand
has a low-pitched centre of gravity even at its most shallow
can be felt as addictive, yet cloys when read in a sequence
can be flicked across a dining room like a pellet of bread
endows you with a pair of artificial wings
affords more pleasure read than spoken
won't bend to any purpose but its own
can serve
when enough is enough
Annie Freud is a poet, painter, tutor, translator and editor. She has three collections in print with Picador, of which The Mirabelles was short-listed for the TS Eliot prize. Her fourth collection, Hiddensee (pronounced Hiddenzay) is due on 14th January 2021. She is currently writing a cookery book.
Fat Alice
put her foot in a rabbit hole, fell like a sack
of spuds, almost set her neck. Curious, she says,
cheek on the grass, ankle shrieking, knee dunched,
neck lashed. Curious that nothing
broke my fall. She spits dust, face bloomed
with humiliation, rose red. Her arms, braced
with each hand bent at the wrists make flamingoes –
she might stand and make a giant. Might stay
on the floor, bent on the deck like a smile
somebody else cast off. The sky is smooth
as mushrooms above the oyster of her shadow's skin.
Fat Alice doddering, bone-sore and limping back
to her house of cards. There's a tea-table waiting,
filthed with gorge and crumb, one used teabag
slumped in a cup like a mouse on drugs. Fat Alice
scrumples her To-Do list. It was filled with impossible
things. There is pain in the caterpillar of her spine.
She is not going to get where she wanted to go.
Jane Burn is a multi-award winning poet who lives an eco-friendly lifestyle in a wooden cottage in Northumberland. Her poems are all about her adoration of language and how it connects her to the many passions and parts of her life. She is working class, a wife, a mother, bisexual, a poet, an artist and maker. She has written lots of poetry books and is also a late-diagnosed autistic which has helped everything finally make sense. Her poems are published in many magazines and anthologies. She co-edited the Culture Matters Witches. Warriors, Workers women's poetry anthology with her bosom friend Fran Lock. She is currently doing an MA in Writing Poetry at Newcastle University. Nothing more to it than bubbles is published by Indigo Dreams and her next collection, Be Feared, is due out in November from Nine Arches Press.
Orphans
The purple sea urchins
are not to blame
they have no brain
they graze on kelp, they procreate,
until the underwater forest
becomes a melancholic mess
of spines and mouths
barren, compressed
they cannot stop
they eat and eat and
starve to death
Anja Konig grew up in the German language and now writes in English. Her first pamphlet "Advice for an Only Child" from flipped eye publishing was shortlisted for the 2015 Michael Marks prize. Her first full collection Animal Experiments was published in 2020 by Bad Betty Press and was selected as one of the best poetry collections of 2020 by the Daily Telegraph.
Note: Orphans was first published in The Manhattan Review.