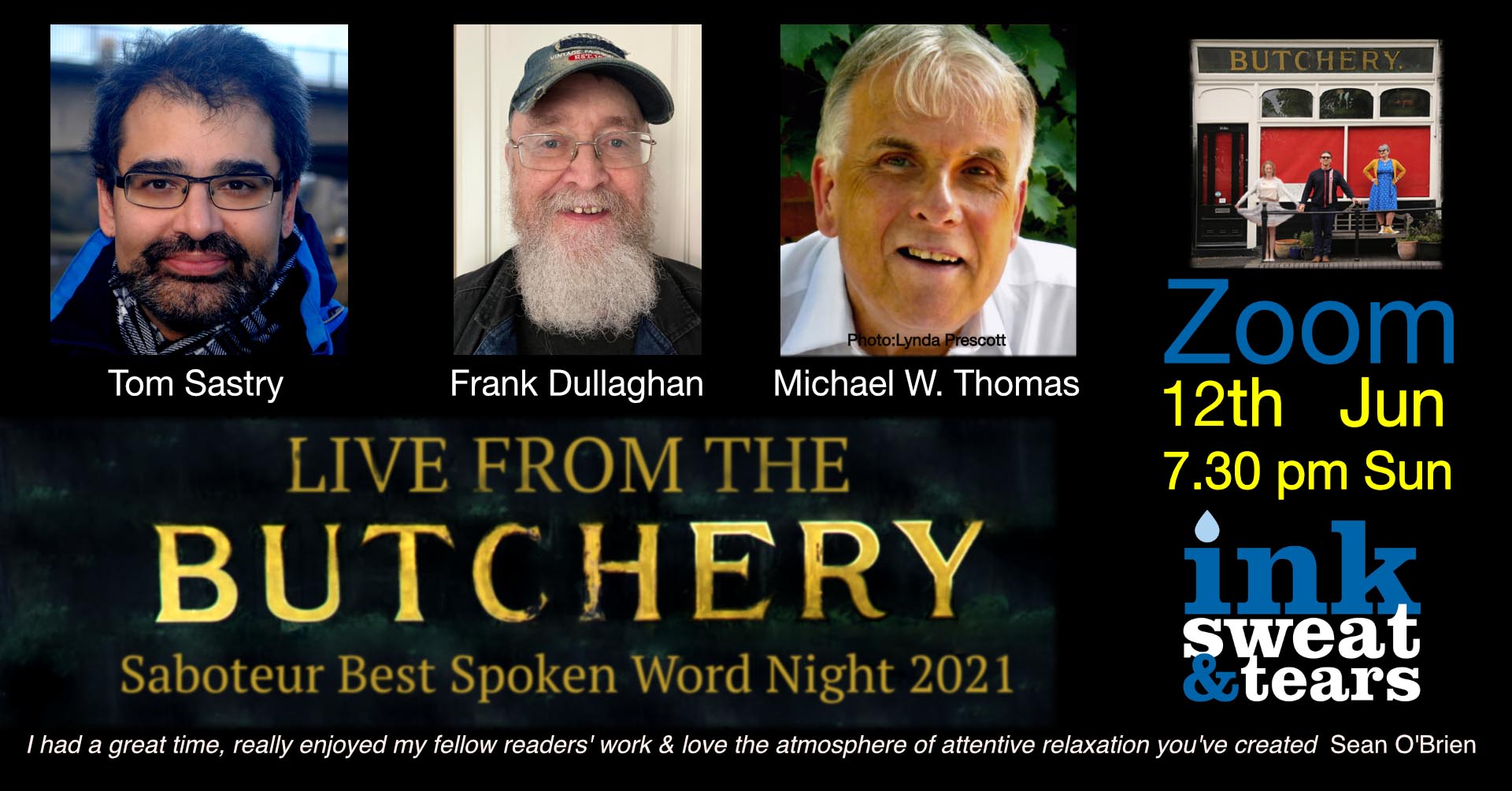 Please join us on zoom for live readings Sunday 12th June at  the new summer time of 7.30pm BST.
This is part of  our monthly award-winning  'Live from the Butchery' series, hosted by Helen Ivory and Martin Figura from their home (an old CoOp butcher's shop), and IS&T publisher Kate Birch.
Email Kate Birch at inksweatandtears@aol.com for meeting details with Live from the Butchery in the subject heading.
In the stillness of his moment, deciding
The new kid in the fourth year was SAS.
He'd killed three IRA in a Belfast pub.
Although untrue, this was his truth:
who he felt he was. A man. Tooled up
with me trapped in my moment
of seeing him with the gun, and him
in the stillness of his moment, deciding
if I could go on living. The same question
engulfed me last year, like a dropped sky.
I brought him and his gun back into my thoughts —
lived in that pause. The war in his head
inside the war in mine. A little nest of wars.
Hera Lindsay Bird calls Tom Sastry 'a magician of deadpan.' A funny and engaging performer, he will be showcasing his brand new collection You have no normal country to return to – a darkly comic exploration of national identity and the power of modern myths. It follows A Man's House Catches Fire (2019) which was highly commended in the Forward Prize and shortlisted for the Seamus Heaney First Collection Prize. His pamphlet Complicity (2016) was a Poetry School Book of the Year and a Poetry Book Society pamphlet choice.
"Tom Sastry navigates the mysterious everyday…making friendships and love affairs new and strange" – Carol Ann Duffy
*
Even the hem of midsummer
At the side of a field
in the middle of nowhere
a man builds.
Already he has two walls up,
which bracket a single stride of winter.
Their tops angle down from stand to crouch.
In time
a back wall joins them.
The man lays a roof on their slant.
It could be for machinery or feed
though there is nothing for miles
and it feels like forever
since an inch of the country was loved.
For a day or so the man leaves the cold
to mortify stone and rib
then reappears
as if from the pit of an unreckoned hour.
He stares a moment
at how his work has broken the flat of the sky,
then slips inside and curls head to knees,
wrapping his arms tight round.
Look at him willing himself not to be
as if lost in a December
with barely a car along all its roads
or stranded at the fag-end of breakfast
as time pushes down a long table
to a mound of colourless grapes.
He might even think himself
the hem of a cancelled midsummer
brushing silent over the roofs of parish halls
where the streamers have stayed
rucked in their boxes, where the dance
has tried and failed to recover its weave.
Michael W. Thomas's latest poetry collection is Under Smoky Light (Offa's Press, 2020). His latest prose collection is Sing Ho! Stout Cortez: Novellas and Stories  (Black Pear Press, 2021). He lived in Canada for many years and now lives in Worcestershire. His work has appeared in The Antigonish Review, Critical Survey, Under the Radar and The TLS, among others. For several years he was poet-in-residence at the Robert Frost Poetry Festival, Key West, Florida.
Website: www.michaelwthomas.co.uk blog: http://swansreport.blogspot.com/
Note: This poem was first published in Critical Survey, 33, nos 3-4 (September 2021).
*
Dingle in the Coming of Winter
Ireland – Nov '17
So much of it is memory –
the sea slapping at the harbour wall,
the fishing boats nodding to each other
from their moorings.
Some days the mountains are misted,
vision limited to what's close at hand –
a murder of crows
revelling in their black arts,
staking out the green
between the harbour and the road,
goose-stepping the kerb, cocking
their heads at any trespass.
The road itself seems a little stiff
as it moves up past the bright pastels
of houses and shop fronts. I stop
to rest at a shop window.
Young girls conspire
in the doorway, giggling in the old language,
replenishing the myth
that youth lasts forever.
Rain gathers in the sky like an argument.
In evening bars, lines of glasses
un-cloud to black. But there is tiredness too –
the months have slowed,
cold has found its way into bone.
I came here, feeling the need to drown
in the untamed weather, escape, be
in Dingle in the coming of winter, understand
that this is just the way of things:
land trying to outlive the sea;
winter tapping at the door,
selling its soft white promise of sleep.
Frank Dullaghan is an Irish writer now returned to living in the UK after 15 years in the Middle and Far East. His poetry has been widely published in international literary journals. Frank was a co-founder of the Essex Poetry Festival and chaired the judging panel for The Young Essex Poet of the Year competition. He was also editor of Seam Poetry Magazine for many years. Frank has five collections of poetry the most recent being In the Coming of Winter, 2021 from Cinnamon Press. Secrets of the Body, 2016, a pamphlet of poems about the mythical Pope Joan, published by Eyewear Publishing in the UK.
In Dubai, he has run workshops in poetry and short story writing in schools, university and for various literary and writing groups. He was an active member of the spoken word collectives Poeticians and Punch. His screenplay for the short film Melody featured in the best short films of the Dubai 48 hour Film competition in 2012 and won the audience award for best short film in the Mumbai Women's international Film Festival. His first full length movie script, Everything You Ever Believed, is currently under a 'Shopping Agreement' from Voyage Media in the US. He has had short stage plays regularly included in Dubai performances. His short story A Place of Grace was shortlisted in the London Magazine Short Story Competition 2017.