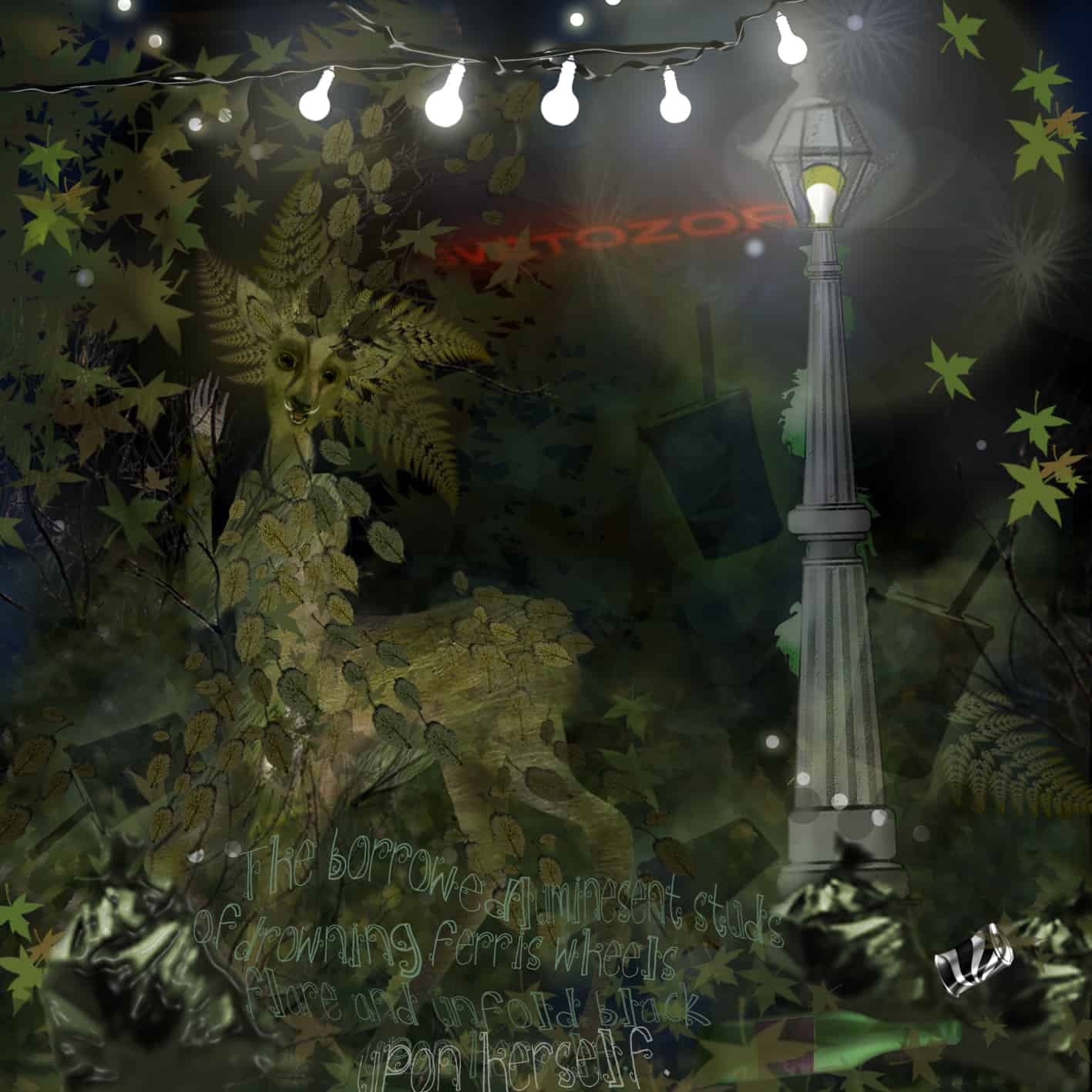 In Light
Honey, I think that to say is in light.
(At Night the States, Alice Notley)
Tonight, the bellied arcs
bear pearls.
The borrowed luminescent studs
of drowning ferris wheels
flare and unfold black upon herself.
I walk, name you, beneath,
join to you, at these, our blacker necks,
in pauses
that partner
still-dark
and with it utter darkness
left here to raise these turns above my head.
I am wrong-footed under these mock celestials.
Foot-wronged. Shod with deer-hooves
dancing this little city path
with the sniff of bins. Your musk
in my musk, in the musk of all musks.
In this streetnight I give you
my musk above all musks
mingled with the slow city black.
They say I have lost my way,
They do (do they ?)
I cannot name them
or write your name
over those reels in
Svetozor
back head watching your teeth
in grape dregs
your elbow cinema row
black empty cavity –
gape gape cinema Sunday,
those nights are taking me
talking the words from me
talking the words from me, tonight,
mouthing, from me, silent impermanence
tonight.
Helen Pletts (www.helenpletts.com) (Instagram @helen.pletts) Working collaboratively on Word & Image (published exclusively by www.inksweatandtears.co.uk) with Romit Berger, illustrator, since 2012. Helen's poetry was longlisted for The Rialto Nature and Place Competition 2018, shortlisted for Bridport Poetry Prize in 2018, Longlisted for Ginkgo Prize 2019. 'The plane tree entertains the circus of doves' won the Ink Sweat &Tears Pick of the Month in March 2019. Helen's poem 'The Grey Seal Speaks' was selected in 2019 for the climate change awareness anthology entitled Planet in Peril available from Fly on the Wall Press. Helen is also the Project Co-ordinator of The Over and Swavesey Swift Conservation Project 2020
Romit Berger: "I am a graphic designer. I met my very dear friend, Helen Pletts, in Prague, several years ago. Helen's inspiration has led my graphic design career into that magical realm which combines illustration and poetry, and our creative wings continue to connect our souls through time and distance."