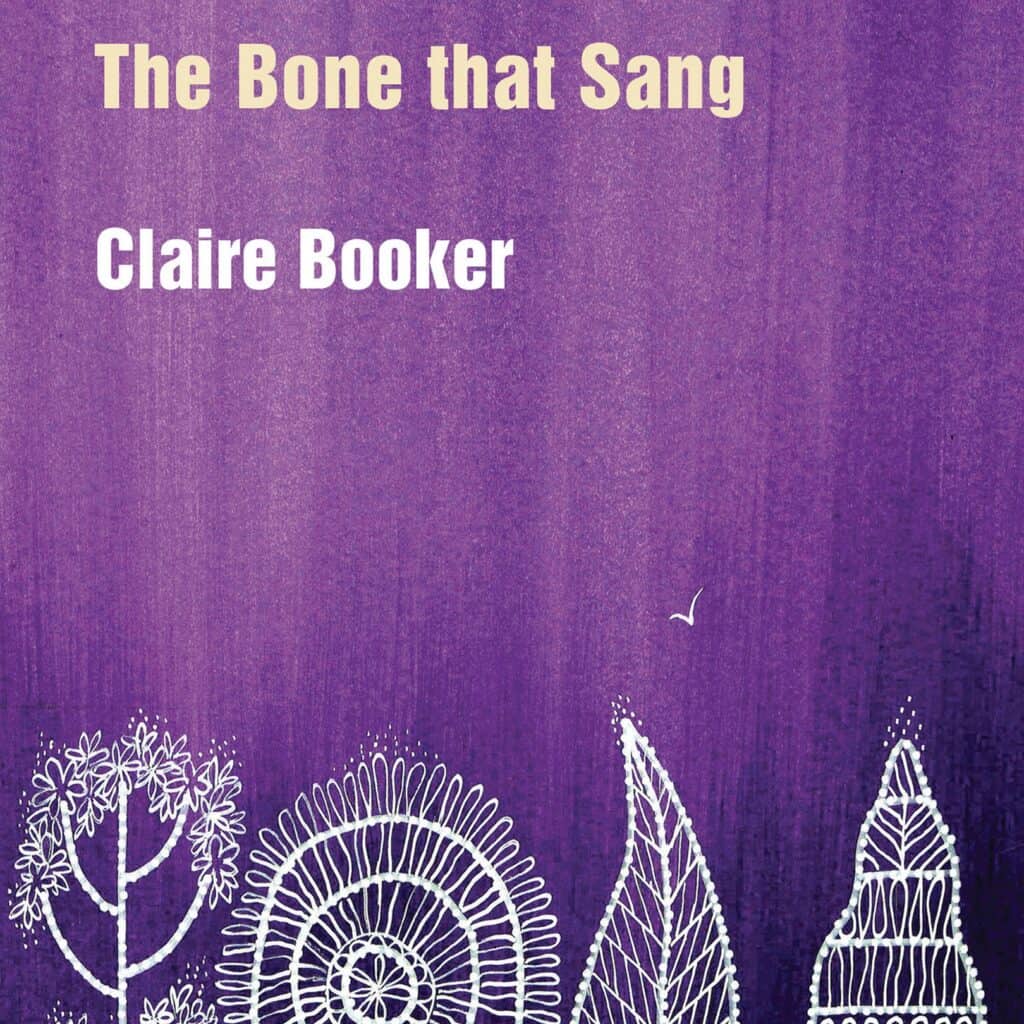 The Bone that Sang by Claire Booker
Indigo Dreams Publishing, 2020
ISBN: 978-1-912876-39-6 £6.00
Bold, inventive, metaphorically rich – Claire Booker's second poetry pamphlet, The Bone that Sang, opens with a title poem that stakes out her poetic terrain. The symbolic status of bone, 'real truth', is given shocking new resonance as the "generalissimo"
". . . hoists the ripe meat
of genocide onto his shoulders – builds a cage
from the contortions of his own mouth,
where he constructs truths that walk and talk
like real children."
". . . knows, how the vanished can fruit
death caps from any scrape of earth.
That bones sing when they find a ready ear."
Wherever her pendulum of interest swings, from society's casualties to love and death – with much in between – Booker's assured choices in form, tone and language never fail to move or pack a punch. Thus, 'Street Cleansing' – a poem as "hydraulically compressed" and worthy of "careful unpacking" becomes the socially-revealing refuse itself:
"/bottle/shards/
/flattened/cans/
/rags/back/pack/
/crushed bones/
of a homeless man"
She frequently mines the world of mineral, rock and stone for meanings. The voice in 'A Paving Stone Fights for Freedom' is the stone itself, literally the downtrodden, transformed by the energy of revolution from the oppressed to the ominously triumphant:
". . . The mob is riffing, cracking
open the sky. Here comes the woooosh of me,
carbon against carbon. Undersides are up!"
In 'Rock Beast', strange new life is breathed into a Spanish cave at Nerja: "date palms dripping fruit, a clipper's prow bursting/ out of lumps of calcite"; its "underbelly" with loops of "moraine like villi of some monstrous gut/endlessly digesting itself."
And Booker is witty! In the highly satirical 'Abdul Haroun Almost Medals at Dover', a master stroke of irony, a French migrant camp becomes 'The Athlete's Village'; a Sudanese asylum seeker, an Olympic runner; the Channel Tunnel, his track:
". . . He's out of the blocks at nightfall
hurdling security gates with a gazelle's grace . . ."
". . . At 28 miles he hits the wall.
No podium for Haroun, though he heard the Brits
love an underdog, went wild when two plucky pigs
hot-footed it off a knackers' truck to freedom."
Complex 'Passion at Oberammagau'– the longest poem of the 27 –successfully interweaves tragedy and comedy to examine the themes of betrayal, guilt and forgiveness. Judas, both on and off stage, is the perfect conduit for exposition of dark historical truths and human failings:
"Now is the hour when the Magdelene weeps.
He remembers the lush of her hair,
its illicit cascade.
His wife is on stage, belly-deep in Holy Spirit:
blue cloth, ecstasy of being chosen,
separate beds.
He longs to tell her how a man engulfed
in purity becomes bewitched by his own dark stain."
Thematic pairings of poems repay comparative readings: in 'Racewalker' and 'Tree House', individuals facing crises; 'At the Bear Sanctuary' and 'Ivory', animal exploitation; 'Baby Blue' and the intricately-crafted 'Double Bass', relationships.
The pamphlet ends in reflective tone with poems on the theme of love and death that feel notably personal. In 'Amma-ji Goes on Haj', gently-lilting rhythms build to crescendo to capture a dying mother-in-law's final spiritual journey:
"We only know that she is far
on her night journey, tiptoeing up each star
in her white sari, ever closer to the Scorpion's sting."
"She, who knew only four walls, will dive in the ten directions.
She, who knew the names of fifth cousins,
will know only one name –
the Kab'ah finally within fingers' reach."
The beautiful poem 'Nightfall at Skiathos Harbour' demonstrates fine evocation of place and mood. On Skiathos, as "islands sink like giant turtles" and hilltop villas light up "like advent", a daughter offers the ultimate sacrifice to her much-missed parents:
"Just as your bodies conjured mine from night,
so I'd return the favour – trade myself
for one of the silver bream
foraging harbour ink, to feel your footsteps
by the water's edge,
and leap for pieces of your broken bread."
'View from the Gibralfaro, Malaga', also written in couplets, concludes the pamphlet with a tender tribute to a dear friend lost:
"I can see almost everything,
except you.
Today, you'll lay your head in the well-turned soil
of a Surrey morning.
The quiet truth of you
breathed out in snowdrop and celandine."
Here, in The Bone that Sang, is poetry that challenges head and heart, leaving an astonishing array of ideas and imagery playing in the mind.
Jane Maker lives on the south coast near Brighton. She loves reading poetry and writes her own too.