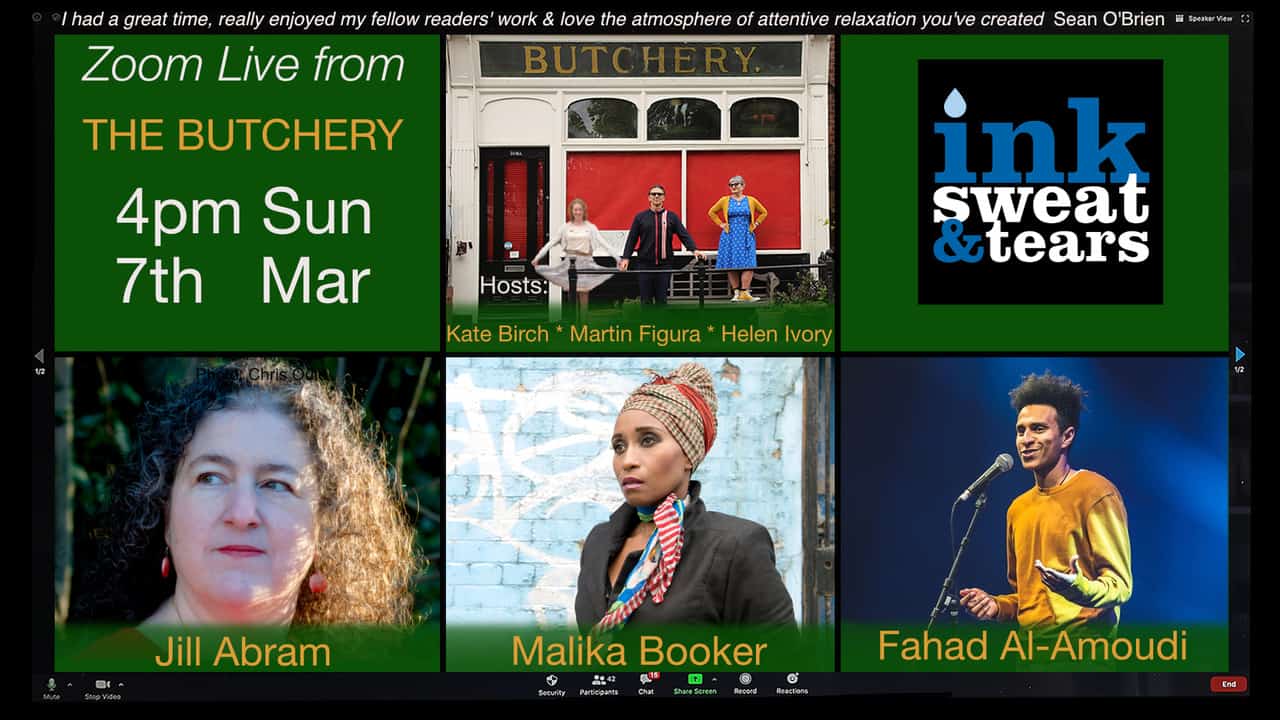 Please join us on zoom for live readings from Malika Booker, Jill Abram and Fahad Al-Amoudi on Sunday 7th March at 4pm GMT
This is part of  our monthly  'Live from the Butchery' series, hosted by Helen Ivory and Martin Figura from their home (an old CoOp butcher shop), and IS&T publisher Kate Birch.
Email Kate Birch at inksweatandtears@aol.com before the Sunday for meeting details.
Windrush Acoustics⁠
Because the custom men came fishing at daybreak
trapped me in their net
Because on that plane we were shoals of fresh-faced fish
netted but not wiggling, not wiggling
passive with the shock the shock
Because my security burst like a balloon, balloon
pieces scattered at this shame shame
Because now I am trapped in this stinking stinking sand sand of bureaucracy
Because now John Crows congregate congregate
on the green lawn of my prayers
like vultures vultures dancing on my coffin
oh Lord dancing on my coffin
Because my local MP's promises are trickier trickier
than the emperor's new clothes
and the weight of his failed promises promises
presses, presses me into sinking sand
Because the custom men watched me, scorn scorn
twisting up their face like I was sceptic tank
and I wanted to tell them home was like this
when I first arrived to the signs – no dogs, no dogs
Because I traveled travelled on my mother's British Passport –
How in them days she was British British
How in them days I was British British and we were home home
Because was just last week I finish pay pay off the mortgage
for my little Croydon home home and now they ripping
my flesh and Lord Lord this cut jagged jagged
Because yesterday my grandson cried cried come home nana, please come home.
but sunshine went on strike and night have no light
so what flame could I spark for that little boy
Because was only last week when I pick him up pick him up from Nursery,
his teacher Miss Williams said – some of these kids come
to school with no food in their bellies and teaching them is like
pouring water on marble, it will not soak
and I thought they had it bad bad not knowing
knowing that this week it would come to this.
Malika Booker's poetry collection Pepper Seed (Peepal Tree Press, 2013) was shortlisted for the OCM Bocas prize and the Seamus Heaney Centre 2014 prize. She is published alongside poets Sharon Olds and Warsan Shire in The Penguin Modern Poet Series 3: Your Family: Your Body (2017). Malika won the Forward Poetry Prize for Best Single Poem (2020), and currently lectures at Manchester Metropolitan University.  Malika's website: http://malikabooker.com/
This poem Windrush Acoustics was commissioned by Fuel Theatre as part of the Fly The Flag Project where poets were tasked with writing poems in response to The Universal Declaration of Human Rights. This poem responds to Article 9 – "No One Shall be Subject to arbitrary arrest, detention or exile."
Note: Since 2017 many individuals from the Windrush Generation have been wrongly detained, deported and denied legal rights due to deeply flawed and discriminatory immigration system. The Joint Council for Welfare of Immigrants.
*
Old City
Ramon Himo tells me he is the only Christian
in the Arab Quarter.
Ramon Himo does not tell me the secrets of his spice mix
although he gives me a pot to take home.
We sit in front of his restaurant just inside Damascus Gate
as the light fades on a Friday night
on the route of the weekly exodus from Mea Shearim
to the Western Wall to welcome in the sabbath.
There are women, modestly dressed, many children
and bum-fluffed boys in black suits and fedoras
more Bugsy Malone than yeshiva scholars
but it's the men who draw the eye
with long beards and sidelocks,
in breeches, frock coats and fur hats.
They pass me, some almost skipping,
latecomers run, racing to prayer.
Allahu Akbar crackles out of an unseen minaret.
The sun has set, shabbat has started,
the parade is over but the fish is baked, succulent.
Jill Abram has been Director of Malika's Kitchen since 2010. She grew up in Manchester, travelled the world and now lives in Brixton. She worked for BBC Radio, specialising in making sound effects for comedy programmes. Her poems have been published in Under the Radar, The Rialto, Magma, Tears in the Fence, #MeToo Anthology, And Other Poems, The High Window and Ink Sweat & Tears. She performs her poems in London and beyond, including Ledbury Poetry Festival, Paris and USA. Jill produces and presents a variety of poetry events and she created and curates the Stablemates reading series.
Jill's website: https://jillabram.co.uk/  Find out about Malika's Poetry Kitchen here: https://malikaspoetrykitchen.com/
*
The summer before his mother died
In the place where a man is a shadow
between two streets, a young boy sits among
the lilies, thinking about the dressing
gown that billows in his mother's bedroom,
and, asking the only question he can,
tilts his head to the sky, his hardened face
becoming a final resting place for flies.
They come willing and oddly in couplets,
many are glad- eccrine- buzzing and still;
the young boy waits till dusk to return home,
he places each fly on the window sill
by the television, makes sure no one
sees this ungodly praise, hands cupped in a grail
with both arms raised, the young boy prays for hail.
Fahad Al-Amoudi is a poet of Ethiopian and Yemeni heritage based in London. He is a Roundhouse 2019 finalist, an Obsidian alumnus and graduate of the Writing Squad. His work has been published in Poetry London and the Macmillan anthology Slam,  edited by Nikita Gill.
Instagram: https://www.instagram.com/keylime.music/?hl=en-gb
Facebook:  https://www.facebook.com/thepoetryexperiment/