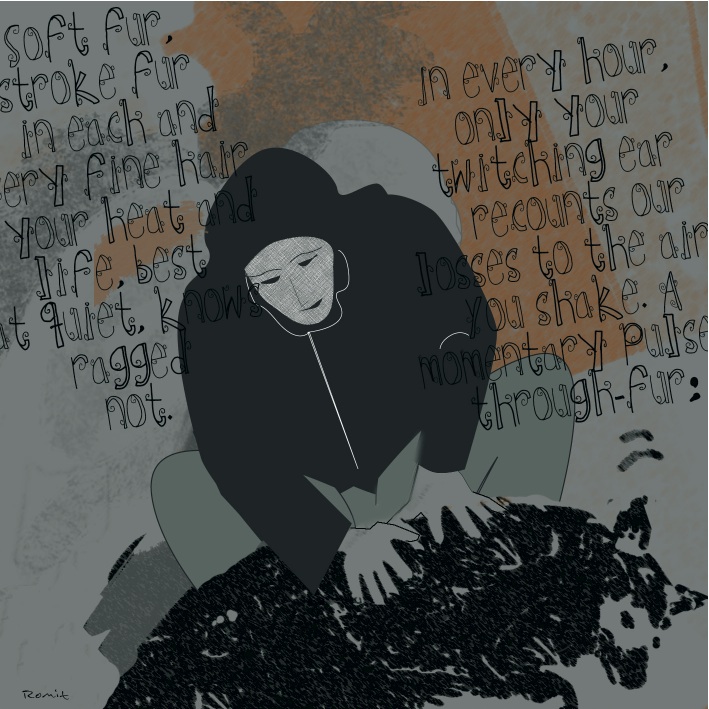 Street dog
Soft fur, stroke fur
   in each and every fine hair
   your heat and life, best
at quiet, knows ragged
not.
                            And in this hour,
I plunge my hands into your fur
   and they are there. This.
                                               The
   somewhere, where all my blue coat cuff
tales talk of gutters –curved fallow–
through the septal gills of drains.
   In every hour, only your twitching ear
   recounts our losses to the air.
You shake. A momentary pulse-through-fur;
   one side floor-flat, the other
   half-rack my only own.
Helen Pletts (www.helenpletts.com ) has two collections, Bottle bank and For the chiding dove (YWO/Legend Press – supported by The Arts Council). Bottle bank was longlisted for The Bridport Poetry Prize 2006, under Helen's maiden name, Bannister. Also published in Aesthetica, Orbis, The Fenland Reed. Working collaboratively on Word and Image (published exclusively by www.inksweatandtears.co.uk) with Romit Berger, illustrator, since 2012. Helen's poetry was longlisted for The Rialto Nature and Place Competition 2018 and shortlisted for the Bridport Poetry Prize in 2018. Helen's poem 'The Grey Seal Speaks' was selected in 2019 for the climate change awareness anthology entitled Planet in Peril available from https://www.flyonthewall. Helen's poetry was longlisted for the 2019 Ginkgo Prize competition.
Romit Berger:  "I am a graphic designer. I met my very dear friend, Helen Pletts, in Prague, several years ago. Helen's inspiration has led my graphic design career into that magical realm which combines illustration and poetry, and our creative wings continue to connect our souls through time and distance."
extract from dog
36.Dog thought of Christmas as his dizzy child
worshipped in bouncing temples, feeling elastic
by the great shaking belly of the city's morning bells
and its thousand replying inflections. Dog made us
stand on Primrose Hill for the early, as he called it,
exfoliating of the grand dingdong.
We dressed as barnyard animals,
as dog's father had taught him.
Then dog ate oysters whilst we played
with the shells. After that we would shoot
love notes into trees, dragging a trolley of booze
to the old people's home and we'd drink
until gravity didn't work and stingrays hovered
above the central reservation in serious thought.
Gladys, the tattooed lady, turned into a pillar
of blue bath salts, all tube stations morphed
into a green harmonium and wheezed in unison
It Came Upon a Midnight Clear. All the wounded animals
sang along, all paintings of ships at sea found their ports.
When it was time and not before, dog would scoop up
the day's collection of sleepy voices and boil
in a gentleman's hat. The electricity in dog's jaws locked,
his teeth flickered like moths as he hiccupped with liquor
in his paunch— It's time that intoxicates us, not the puff
of smoke and the rattling of the tambourine.
Christmas snaked away a model of the universe,
framed in the frost of our window.
Grant Tarbard is the author of Loneliness is the Machine that Drives the World (Platypus Press) and Rosary of Ghosts (Indigo Dreams). His new pamphlet This is the Carousel Mother Warned You About (Three Drops Press) and new collection dog (Gatehouse Press) will be out soon.
Krampus
Krampus, as acid in stone
sinks into a scorched wood
his black head frothing steam
branches wince, naked
flutters of embers pile
iced scarred and skinned
His cleft hooves crunch
half goat and demon
depress, burnt leaves
crumbling ash into snow
heavy, cindered, falling
logs pound up smoke
A tongue, worm white
lolls between hook fangs
long, curling down wet
a maggot whip drips
as molten ore
earth moulding slag spit
In one hand, a gift of coal
to mark young faces dirty
with grey-glow to melt flesh
the other holding a rattle
a chain to clink and chitter
thrashing as bonfire cracks
On his bramble hair back
strapped, charred thatch
is rounded into a pit
a barrel of cold to cage heat
empty, save for birch bundles
to tenderise taunted meat
He lopes on the edge
of frostbitten kindling
waiting for no moonshine
nods his horns to a clearing
at a man, emptying his sack
after snores boil in shadow
Krampus awaits a silent reply
Saint Nicolas bows out
gifts left red ribboned
and Krampus takes the waste
up clawed chimney flues
as his brother marches off
in sweat, shudders, shivering
Z. D. Dicks has been accepted by Obsessed with Pipework, Sarasvati, Ink Sweat & Tears, Three Drops from a Cauldron, Fresh Air Poetry, I am not a silent poet, The Hedgehog Poetry Press plus many more, and is described as 'a gothic Seamus Heaney' by Anna Saunders (Director of The Cheltenham Poetry Festival).